Another school bus crash has happened in North Carolina – this time in Bladen County. The accident occurred in on Lisbon Road at Mercer Mill Brown Marsh Road near Clarkton at around 3:30 p.m. on Friday.
According to a statement by a Bladen County School spokesperson, the school bus was transporting children from Clarkton School of Discovery and Booker T. Washington School. There were 39 students onboard at the time of the crash.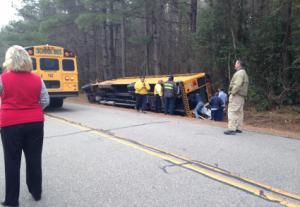 Law enforcement report that the school bus, which was being driven by a 31-year-old driver, hit a curb and then flipped over. The driver has been cited for exceeding safe speed to a curve. Police and school officials are investigating the accident, and will be using video camera footage and GPS from the bus to determine if the driver had been speeding during the entire bus ride. Parents are reporting that the children were terrified during the bus trip and kept begging the bus driver to slow down. However, the driver continued to speed and continually hit his brakes until the bus went off the road.  
Six of the children on the bus were transported to the hospital by ambulance. The remaining students were transported there by bus and parents.
Our personal injury law firm has reported on many of these North Carolina school bus accidents which appear to be cause by the negligence of the school bus drivers. If your child has been injured in an accident caused by a negligent school bus driver, contact an experienced North Carolina personal injury attorney to find out what legal recourse you may have against both the driver and the school bus company for the pain and loss your child has suffered.