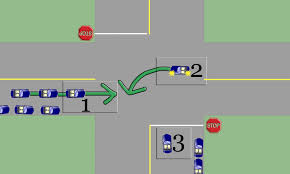 If you Google "turning left into traffic" you will find there are multiple diagrams as well as several Youtube videos explaining the process.   Basically, if you are the driver turning left you must yield until the road is clear.  However through inattention or inexperience many people are seriously injured in car accidents when a driver turning left fails to yield or when the driver going straight fails to stop at a traffic signal or light.  This was the case in a recent car accident in Brunswick County that sent five people to hospital where one victim was pronounced dead.   During this accident two people were trapped inside a car and at least one of the vehicles had children inside. 
Turning left, it seems like a simple task.  Just wait until the road is clear.  But according to VADOT left turn car accidents account for 8% of fatal crashes at unsignalized intersections.  It is unclear at this point who was at fault but what we do know is that one driver's negligence caused a wreck that injured multiple people and killed one, potentially leaving that at-fault driver liable for providing compensation to the individuals who got hurt.
As Virginia (VA) car accident attorneys we have handled many car accident injuries and wrongful death cases similar to the Brunswick County situation.  In one such case our plaintiff was the driver of a minivan taking his wife home for lunch when the defendant driver turned left in front of him, failing to yield the right of way. The resulting collision fractured the plaintiff's left kneecap and caused numerous other abrasions and contusions.  No two car accidents or the injuries that come of them are the same.  This is one reason to call an experienced lawyer.  You can learn more by reading through our extensive online library of lawyers' answers to frequently asked questions about car and motorcycle accident cases.
CT