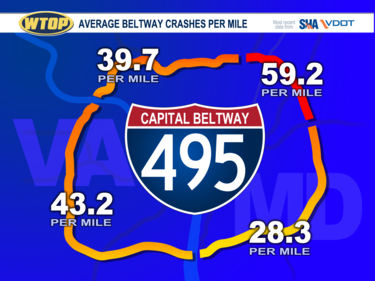 Interstate 495, also known as the Capital Beltway, is a 64-mile long interstate Highway that creates a loop around Washington D.C. History knows it as an area with high traffic congestion and as home to some of the worst bottlenecks in America. 
Today, it adds another title to its list: most likely place for a driver to witness or be involved in an accident.
The moniker is well-deserved. The interchange from college park to Route 50 in Landover, also known as the  "Danger Corridor," has had more than 1000 crashes between 2010 and 2012, with an annual average of 54.3 crashes per mile, per year.  More than 2000 crashes occurred between 2010 and 2013 between I-95 and the American Legion Bridge.
Finally, the area between Route 50 and the Woodrow Wilson Bridge had fewer crashes, 1500, in the same time-span.
The majority of the accidents are rear-end collisions, says David Buck, a spokesman for the Maryland State Highway Administration. You may think that in periods of high congestion on the interstate, with bumper-to-bumper traffic , more accidents would occur. Not so, says Buck. "In some ways, the more congested interstates are bound to have less severe crashes, as the speeds are much lower and it's all relative to the number of vehicles on the road in any given day."
Catchy nicknames aside, the Beltway essentially functions as a 64-mile minefield for automobile accidents, and the effects of a rear-end collision is not a joking matter.  Our attorneys have worked with and won cases involving rear-end collisions. Whiplash, while typically less severe than other injuries, can require expensive medical procedures and an irreparable loss of income and earnings.
Hundreds of thousands of people commute using I-495, and those people should not have to put their health at risk every morning they try and get to work.  But the reality is that accidents happen every day, so you need an experienced attorney to make sure you protect your rights and receive a fair settlement.