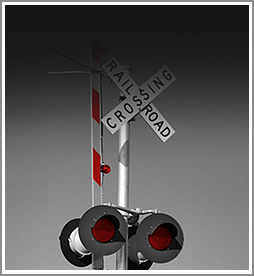 A tractor trailer filled with plastic bottles was traveling on Gilroy Road in Cockeysville, Maryland (MD) when it attempted to make a right turn into a Hunt Valley Plant. What the truck didn't expect was a light rail train heading straight towards them. Unfortunately, neither the truck driver nor light rail operator was able to avoid getting into a major collision which turned into a chain reaction wreck involving not only the trailer and train, but a 2009 Honda Civic. The train slammed into the tractor trailer which subsequently hit the Civic, according to The Baltimore Sun.
It appears both the driver of the tractor trailer and Civic escaped serious injury, but the light rail operator suffered serious injuries and is being treated at the Maryland Shock Trauma Center. Two passengers on the train suffered injuries as well.  There's no official word on who was at-fault for this serious crash. Some people believe the truck driver failed to make a complete stop while turning right. Other people the light rail operator should have seen the truck trying to make the turn and applied their brakes.
Residents of the area report that this particular crossing has been a problem for some time. "They've been fighting to get a gate put across here because they've just got the little sign up top that says 'do not cross,' and we had one almost get hit here doing to the same thing this morning. So, I think the MTA better check into getting a gate put down," said Stephanie Bray, who works near the rail crossing.