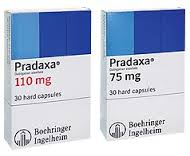 Patients who have to have their blood monitored for health reasons often dread the finger stick that accompanies it.  So when German pharmaceutical giant Boehringer Ingelheim introduced Pradaxa, a new blood thinner that did not require blood monitoring, many patients were pleased.  Boehringer Ingelheim introduced Pradaxa in 2010 as a replacement for the older drug Coumadin, which had been in use for decades. A major selling point was that Pradaxa offered the benefits of stroke prevention without the hassle of frequent blood monitoring needed with Coumadin.
Now a new scientific study suggests that the pharmaceutical company that makes Pradaxa, may have held back information that may have prevented serious bleeding complications among some of the million or so Americans using it.  These researchers found data that shows that up to 40 percent of all deaths and serious bleeding events related to Pradaxa could have been avoided by simple blood testing. Checking blood levels periodically, they said, might have allowed doctors to lower the dose of Pradaxa or temporarily stop it in patients with dangerously high levels. 
The reason the drug company may have held back this information is that their new drug added no benefit to patients that were already taking Coumadin.  If this was the case then the drug manufacturer harmed many people for pure profit by holding back the fact that blood monitoring was still needed.  Consequently if blood monitoring was needed to use the medicine safely there was no reason for patients to leave the lower costing Coumadin drug.
Even more troubling is the fact that Boehringer Ingelheim appears to have known Pradaxa was dangerous during the drug trials. The company left the fact that blood monitoring was necessary out of the safety information presented to the FDA during the drug's approval process.
The evidence is clear – Pradaxa is a dangerous drug without proper blood monitoring despite the company's denials.  If you've taken or are currently taking Pradaxa, see your doctor to check if you've suffered adverse side effects. You may also need to consult an attorney if you have suffered from a serious bleeding event related to Pradaxa. Our Virginia (VA) dangerous drug attorneys have over 100 years of combined legal experience.
CT