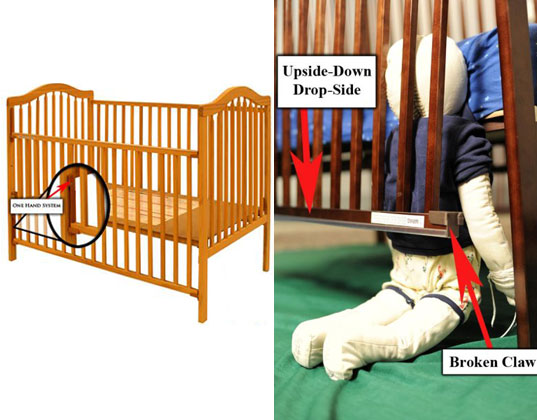 Two weeks ago, the U.S. Consumer Product Safety Commission issued an alert titled "Pottery Barn Kids Recalls to Repair Drop-Side Cribs Due to Entrapment, Suffocation and Fall Hazards." It marked at least the third time in the past year that the agency worked with a manufacturer to get potentially dangerous drop-side cribs fixed or out of families' homes altogether.
Fortunately, only minor injuries have been reported by parents and caregivers who placed their babies in the recalled Pottery Barn cribs. Deaths and brain injuries have occurred when babies have fallen out of, or been trapped between the mattress and slats of, other poorly designed cribs.  The CPSC issued a proposed federal standard for cribs that would ban the sale of models with sides that drop down. The agency is following the lead of independent engineering standards setters who called for a ban on drop-side cribs in the winter of 2010.
Infants and toddlers cannot protect themselves, and some bumps and bruises are inevitable. But the most vulnerable members of our society should never be placed at unnecessary risk by the products parents and caregivers rely upon to keep their children safe. I applaud the efforts to get and keep drop-side cribs off the market.
EJL