A dump truck in Burlington, NC flipped over, spilling gravel and fuel at a major intersection yesterday.
The driver of the dump truck was driving on US 70 and South Church Street when he lost control. This caused his gravel load to shift, and his truck then turned over. The truck traveled 100 feet into the parking lot of a Subway and Salvation Army, and it then hit three empty cars.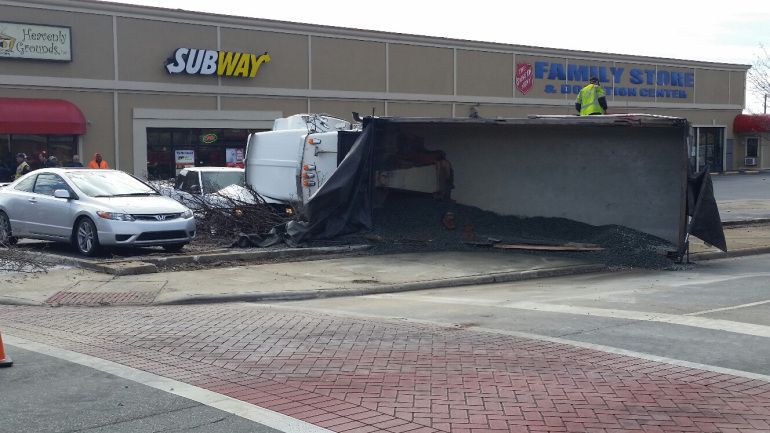 Approximately 100 gallons of diesel fuel were spilled from the truck, as well as the load of gravel. The fire department dispatched its hazard mitigation team; the fuel spill was contained to the parking lot.
The dump truck driver was charged with careless and reckless driving. The state highway patrol also charged him with driver fatigue and no record of duty status.
We are relieved that the apparent truck driver carelessness in this case did not lead to injury or loss of life. In our experience as truck accident personal injury lawyers, we have seen all too many deaths and injuries from truck driver fatigue and other acts of negligence.
 In one case a few years ago, a MACK truck driver using a trailer and water tank smashed into our client's car. The MACK truck had bald tires, but the driver claimed that tread separation caused the wreck. We hired an engineer who is an expert in vehicle dynamics to inspect the truck and to analyze its old tires. We were able to secure our client a $650,000 settlement after we proved the truck driver and company were negligent.
It is important that all truck companies and drivers operate their vehicles in a safe manner. They need to be inspected regularly, maintained to government requirements, and the drivers should always be well rested.
Public safety demands no less.