An elderly couple was pronounced dead at the scene of a car wreck in Charlotte and police say it was a red-light running driver who caused the fatal accident. 
Law enforcement report a 53-year-old Charlotte man was driving a 1999 Buick Lesabre, over the speed limit, on Central Avenue toward North Kings Drive at approximately 11 a.m. The Buick sped right through a red-light and slammed into the passenger side of a 2011 Chevrolet Impala, which had been driving outbound on Seventh Street.
The impact from the crash caused both vehicles to spin around in the intersection. The Buick then drove down an embankment, crashed into a parked SUV before it finally came to a stop.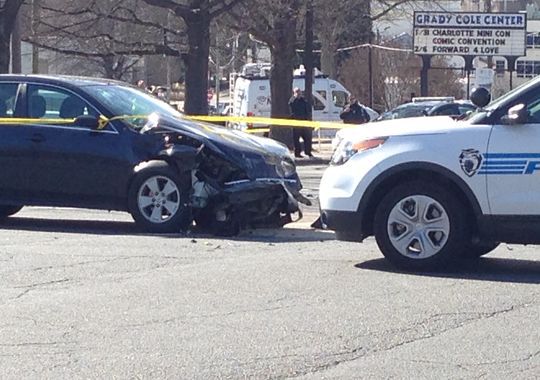 Two of the passengers in the Buick, a 72-year-old woman who was sitting in the front passenger seat and an 80-year-old man who was sitting in the rear passenger seat, were killed instantly. The driver, as well as a 44-year-old woman who was sitting in the rear seat on the driver's side of the car, were transferred to CMC Main with non-life threatening injuries. The 18-year-old driver of the Impala was also transferred to CMC Main for injuries sustained in the crash.
After his release from the hospital, the driver of the Buick was arrested by Charlotte-Mecklenburg Police and charged with two counts of misdemeanor death by vehicle, reckless driving and a red light violation. Police say the accident investigation is ongoing.
According to statistics from the Federal Highway Safety Administration (FHSA), there are approximately 165,000 people are injured annually by red-light runners. Another 800 people are killed each year by a driver who ran through a red-light. In national surveys conducted by National Highway Traffic Safety Administration (NHTSA), 97 percent of drivers cite other drivers running red-lights as a major safety threat on the road.
And tragically, one in three people say they personally know someone injured or killed in a red-light running crash. If you have lost a loved one in a car crash caused by another driver running a red-light, you may want to check out these frequently asked questions that many families struggle with after a tragic loss.  It may also be helpful to contact a dedicated North Carolina wrongful death attorney to find out what legal recourse you may have against the other driver for your family's pain and loss.