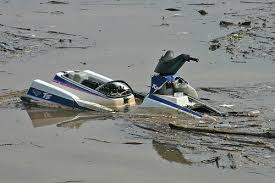 The Pamlico Sound in North Carolina (NC) is the largest lagoon along the U.S. East Coast, 80 miles long 15 to 30 miles wide.  This body of water is separated from the Atlantic Ocean by the Outer Banks and makes it an ideal place for boaters and water sport enthusiasts.  In a recent Carteret County jet-ski accident, two adults and three minors were injured.  One of the adults, a Virginia man, later died from his injuries.  The accident happened when two jet skis of the same party with two people on one jet-ski and three on the other, collided just west of the Emerald Isle high rise bridge. 
As North Carolina boat and jet-ski accident injury attorneys we know that while operating or riding on a jet-ski can be fun it can still be dangerous. Operators must take caution in order to protect themselves and others on the water.  Similar to motorcycles on the road, there is very little protection to the operator or passenger if an accident occurs.  While there are no traffic lights or signals out on the water there are rules regarding the operating of boats and jet skis that must be followed to prevent accidents and injuries.  In 2013 there were 143 boating accidents in North Carolina (NC), 17 of them were fatal.
In order to help victims of boating and jet-ski accidents and injuries our North Carolina attorneys have created a comprehensive guide that deals with questions associated with boating accidents including those related to who will cover the victim's medical bills and other expenses. The guide includes information about boating accident law, what to do about insurance, and whether or not you should pursue a personal injury claim against the at-fault individual or company that caused the accident.
CT