One of the worst things for a parent to experience is watching their child suffer with pain or illness, and not be able to do anything to comfort them. This is something that most parents of infants and toddlers know all too well as their child struggles with teething pain. In order to help alleviate the pain babies suffer as those teeth are breaking through tender gums many parents try over-the-counter (OTC) teething tablets and gels. A popular type of tablet is homeopathic one because many parents believe the natural ingredients in these products are supposed to be much safer for their child than other medications. But is natural always safer?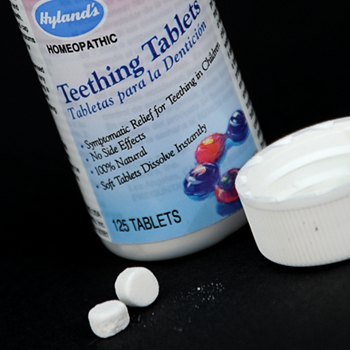 The Food and Drug Administration (FDA) recently announced a possible dangerous connection between homeopathic teething tablets and the deaths of 10 children – something the tablet's manufacturer is strongly disputing.
According to the FDA, in addition to the deaths of children that have occurred, there have also been at least 400 adverse events that may also be linked to the tablets. These adverse events include fever, lethargy, vomiting, sleepiness, tremors, shortness of breath, irritability, and agitation. The agency is urging parents to stop using these products immediately and if it appears their child is suffering from any problems after being given the tablets to have the child checked out by their pediatrician right away.
Although there is not a current recall of these products, many retailers have pulled all homeopathic teething products from their shelves. And following the FDA's announcement, Hyland, one of the major manufacturer of homeopathic teething products, has announced it would no longer be distributing these products in the United States, although it is disputing the FDA's assertion that the teething products may be dangerous to children.  
In 2010, the FDA issued an alert about Hyland's teething tablets, warning consumers that the product contained belladonna, which is a plant-based toxin. There was also a concern because the bottles that held the teething tablets did not have child-proof caps. That warning prompted the company to issue a recall of all their teething products.  
Even though the FDA is still investigating what connection these tablets had to the tragic deaths and side-effects that all of these young children suffered, their parents should immediately contact an experienced defect product attorney to find out what legal action may be taken against the manufacturer of these potentially deadly products. Our Virginia dangerous drug law firm has successfully represented many victims who have suffered serious injuries from dangerous products and understand how overwhelming these situations can be for families.