A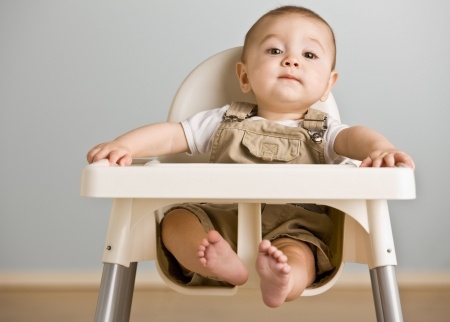 s parents, we assume that the products we purchase for our children must be safe – or else they would not be allowed on the market. But each year, millions of high chairs, as well as booster seats, are recalled because of the injuries that young children sustain from them.
So, how safe is that highchair your toddler is sitting in at dinnertime? According to one study, it might not be very safe at all. The study, conducted by the Center for Injury Research and Policy, found that 24 children end up at hospital emergency rooms every day for high chair-related injuries.
Study Details
Researchers used data from children treated at emergency rooms, between the years 2003 to 2010, for injuries associated with the use of high chairs. There was an average of over 9,400 children who were treated for high chair-related injuries annually. That yearly number of children injured increased each of the years of the study. These numbers reflect one child hurt from an accident related to a highchair or booster seat every hour.
RELATED CONTENT
The director of the center, Dr. Gary Smith, said parents need to be aware of the dangers associated with these products. "Highchairs are typically used in kitchens and dining areas, so when a child falls from the elevated height of the high chair, he is often falling head first onto a hard surface such as tile or wood flooring with considerable force. This can lead to serious injuries," he said in a statement.
The most common injury received by young children in these accidents, almost 40 percent, were closed-head injuries (CHI), such concussions. The increase in CHIs almost doubled during the seven years of data provided. The first year in the study, there were 2,558 CHIs reported nationwide. But seven years later, that number spiked to a total of 4,789 children injured.
Children should always be strapped into high chairs to help avoid falls. Trays alone are not enough to keep a child safe. When purchasing a chair, make sure it has a three or five-point harness, as well as a safety strap. Chairs designed with a wide base are usually more stable than chairs without. Also, make sure the chair you are buying meets all federal safety standards. It is also important to pay attention to any recall notices that are issued. Our firm has reported on numerous high chair recalls, including one a drew years ago where more than 500,000 units were recalled because of injuries that children sustained.
Contact an N.C. Defective Product Attorney
If your child has been injured because of a dangerous or defective product, contact a skilled North Carolina personal injury attorney to find out what legal action you may able to take against the parties responsible for your child's pain and suffering.