Each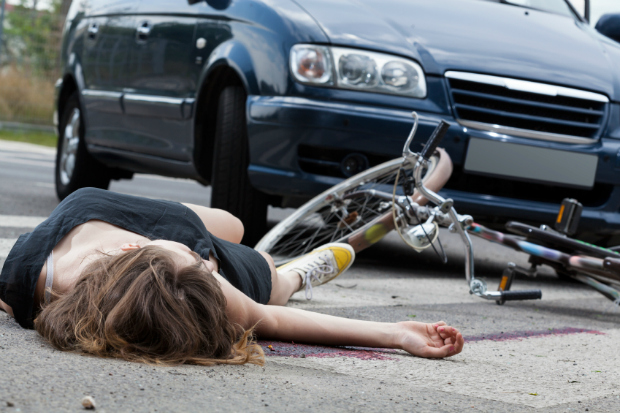 year, there are approximately 500,000 emergency room visits because of injuries sustained in bicycle accidents. Tragically, almost 1,000 cyclists are killed each year because they were hit by another vehicle. The risks of being injured or killed in a vehicle accident are significantly higher than for vehicle occupants because there is no protection afforded those riding bikes. This is why it is so important for cyclists to follow bicycle safety habits.
Bicycle Safety Tips
Just as there are things pedestrians can do to help negate the risks of being hit, there are also proven actions cyclists can take to avoid being hit. One of the easiest steps to take is to make sure that when you are on your bike, you are wearing reflective and light-colored clothing. There is quite the selection of affordable fluorescent clothing on the market which is specifically designed to help make cyclists visible to vehicle drivers, especially at night. You should also make sure that your bike has front white light and rear red lights to help increase your visibility factor.
RELATED CONTENT
As bicycling continues to gain popularity, communities in North Carolina and across the country have increased their efforts to provide safe areas for cyclists, such as bike lanes and bike paths. If you are riding on a road that has a bike lane, make sure to stay in the lane.
Whether you are on a bike or in a vehicle, you are required to follow all of the rules of the road that North Carolina has in place. Obeying traffic lights and signs, using hand signals when you are going to turn, and waiting until you have the right-of-way are just as critical to follow if you are on a bike as they are if you are in a car.
In North Carolina, it is required by law that anyone under the age of 16 is required to wear a bicycle helmet. But whether you are 16 or 60, wearing a helmet can significantly protect against serious brain or head injury in the event you are hit.
Have You Been Injured?
Despite how safely you ride, you may still become the victim of a bicycle accident. If you have been injured, contact a skilled North Carolina bike accident attorney to find out what legal steps you can take against the person who is responsible for the crash. Our Carolina personal injury law firm will work diligently to get you the financial compensation you may be entitled for your pain and loss.