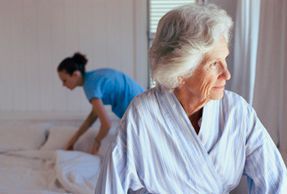 Google the words, "elder abuse" and you will find these disturbing headlines among many others.  "Elder Abuse Suspect Heads to Court", "Elder Abuse Reports Jump in Boulder County." There seems to be no shortage of people who will take advantage and harm the elderly. 
The reality is that while many nursing home employees are kind individuals that truly do care about their patients, there's no way to weed out the bad ones. Low staffing levels, employees who are consistently overworked and undertrained are all factors that lead to trouble for the residents of nursing facilities.
LEARN MORE
When profitability is given precedence over patient care, elderly individuals often suffer the consequences. In some cases, seniors, who are already the most vulnerable group, are subjected to shocking physical and emotional abuse. If you believe someone you love may be the victim of such mistreatment, it's important to take action immediately and reach out to an experienced Virginia nursing home abuse attorney. 
As Virginia (VA) elder abuse lawyers we often advise clients that if they suspect that an elderly loved one has been subjected to nursing home abuse or neglect, time is of the essence. It's critical that you report the matter to the proper authorities right away; after all, the longer you wait the longer your loved one could be suffering.  It's also important that you understand your legal options, to help with that, consider reading our free report on nursing home abuse and neglect which contains a rundown of steps you can take if you suspect a loved one has been abused by the staff at a nursing home.
CT