Virginia lawmakers have introduced several bills which they hope will help reduce the number of deadly distracted driving accidents. The bipartisan effort is a push to get every Virginia driver to put their phones away when they are behind the wheel of their vehicle. Last year, just in the state of Virginia alone, there were 175 people killed in distracted driving accidents. Almost 15,000 people were injured.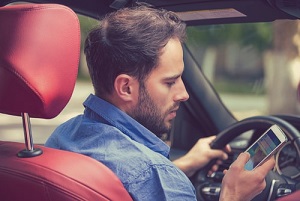 Multiple studies have shown how dangerous distracted driving is. In one Virginia Tech study, researchers determined that 80 percent of all car crashes are caused by the inattention of the driver during the three seconds right before the accident happens. Texting while driving increases a driver's risk of being in a crash by 2,300 times. If the studies don't convince people they need to pay attention to the roads and not their cell phones, the number of deaths distracted driving crashes cause should.
House Bill 1834
The passage of this bill would make it illegal to manually enter letters or text or select multiple icons on a handheld device while driving. The current law only forbids drivers from sending text messages or emails. This bill would extend that by making it illegal for drivers to check their social media accounts, such as Twitter and Facebook, or to view a video online. The bill would also create a new offense in the Code of Virginia called distracted driving. Under the current law, it is only illegal to do these things with a handheld device if the vehicle is moving, but this bill would also apply to vehicles stopped on the road. These activities would only be allowed if the vehicle was legally parked.
House Bill 2015
This bill would allow drivers who use the E-Z Pass electronic toll system to make a voluntary contribution to DRIVE SMART Virginia. This organization creates educational programs and campaigns promoting ways to make Virginia roadways safe.
House Bill 1763
This bill would issue special license plates promoting highway safety, including distracted driving awareness. Ten dollars from every plate sold would go to promote safe driving programs. Sponsors of the bill suggested that the plates could be designed by high school students.
Senate Bill 1339
This bill addresses criminal charges for drivers responsible for vehicle accidents caused by distracted driving in which a pedestrian or bicyclist is injured. If this bill passes, the driver would be charged with a Class 1 misdemeanor and, if found guilty, would have their license suspended.
The Representation Victims Deserve
Our Virginia personal injury firm is pleased to see Virginia lawmakers taking the initiative to help crack down on drivers who still fail to understand the dangers of using their cell phones, or engaging in other distracting behaviors while driving. Our Virginia car accident attorneys have successfully represented many victims of distracted driving accidents and we know how devastating and life-altering car crash injuries can be.