Memorial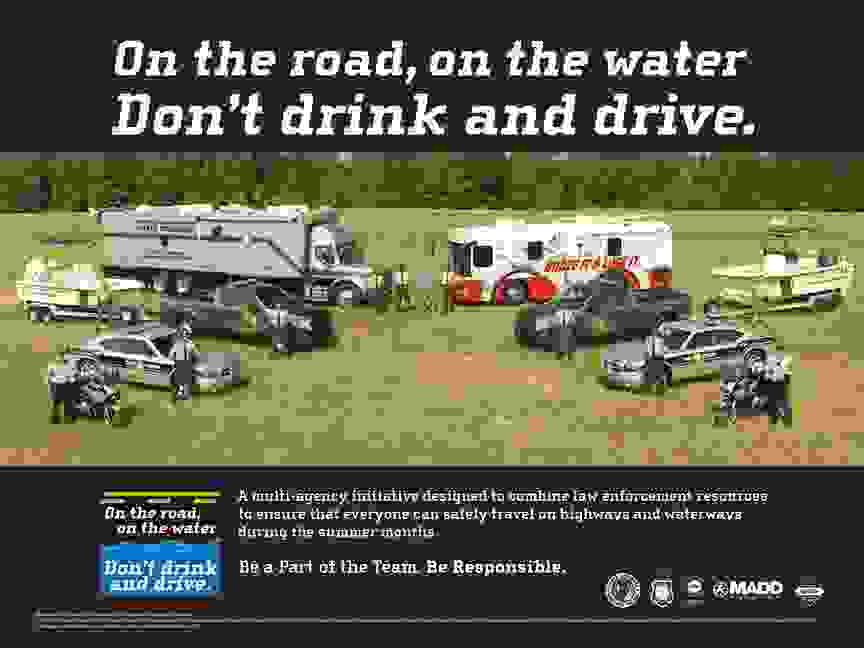 Day Weekend will kick off the launch of the North Carolina "On the Road, On the Water, Don't Drink and Drive" campaign.  The multi-agency safety initiative is aimed at summer holiday travel.
According to a press release issued by the North Carolina Wildlife Resources Commission, the campaign will work to reduce accidents on the state's roadways and waterways which always experiences increased traffic during the summer season. 
The campaign is made up of the Governor's Highway Safety Program, Wildlife Resources Commission, State Highway Patrol, Alcohol Law Enforcement, Forensic Tests for Alcohol, U.S. Army Corps of Engineers, U.S. Coast Guard and local police and sheriff's offices, along with participating organizations such as Mothers Against Drunk Driving (MADD).
Sgt. David Jordan, a Commission wildlife officer, said the "On the Road, On the Water, Don't Drink and Drive" is more than just a law enforcement campaign. He called a partnership, "with the most important partner being a safe and responsible public."
One of the goals of the campaign is to reduce the amount of alcohol-related accidents that occur.  In North Carolina, a driver or vessel operator with a blood-alcohol concentration that meets or exceeds .08 or is appreciably impaired by alcohol and/or drugs is subject to arrest.  Law enforcement will be conducting sobriety checkpoints and there will also be an increase in special traffic patrols during busy holiday periods, such as Memorial Day and July 4th. The campaign will also be utilizing special messaging strategies to increase awareness of the dangerous consequences of impaired driving.
If you or someone in your family has been a victim of a drunk driver, contact a North Carolina personal injury law firm to find out what compensation you may be entitled to for pain and loss. Our firm has successfully represented many clients, including a $300,000 award for a young woman who was struck by a drunk driver while walking on the sidewalk.
To learn about what types of damages are available through a personal injury claim, take a moment to read this article which discusses the possibility of obtaining damages to compensate for medical bills, lost wages, and pain and suffering. More answers to FAQs on what to do if you've suffered a serious injury in an accident are also available.
RELATED CONTENT