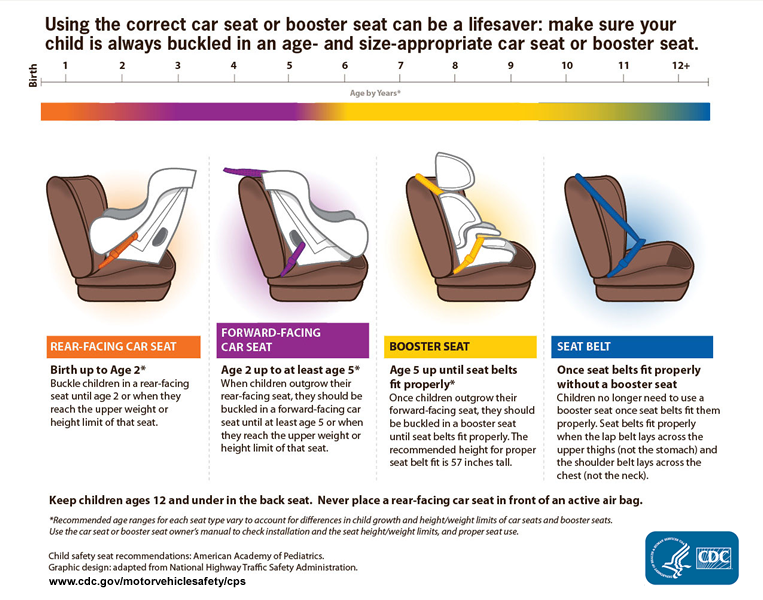 When new parents bring their babies home from the hospital they know to use a backward facing infant carrier.  But then what happens? How old does a child have to be to move to a forward facing seat?  It's these questions that a new safety tool from the National Highway Safety Transportation Administration hopes to answer. 
You simply put your child's birthday, height and weight into the calculator and it will tell you the safest seat for your child.  As Virginia (VA) personal injury lawyers we have seen the injuries to children that result from a negligent driver.  Keeping your child as safe as possible before an accident occurs by having them in the correct safety seat.
Child health experts and the federal agency most concerned with keeping drivers and passengers safe on America's roads and highways are calling for longer use of rear-facing infant car safety seats and wider use of booster seats for children between the ages of 2 and 13 years. The recommendations from the American Academy of Pediatrics and the National Highway Traffic Safety Administration update guidelines already written into the laws of most states, including Virginia (VA) and North Carolina (NC), which call for safety seats for all babies, infants, toddlers and elementary school children.
RELATED CONTENT
If your child does suffer an injury from a car accident, Virginia (VA) courts are more flexible for helping the parents of a child hurt in an automobile accident than in some other states. Once a settlement has been reached in a car wreck case with injuries to a child, both VA and NC courts may require an infant settlement. An infant settlement is a procedure wherein the court must approve any personal injury settlement resolving an insurance claim or a lawsuit involving a child. The court normally will not second guess an agreement reached on behalf of the child by the parents, the family's personal injury lawyer and the insurance company. However, the court wants to make sure that any permanent injuries to the child have been taken into account and that the settlement seems to be fair. 
CT