Is a North Carolina law contributing to the recent spike in truck accidents? That's what many in the state are beginning to ask when looking at the number of tractor trailer accidents which have taken place on the state's roads in just the first five months of 2016.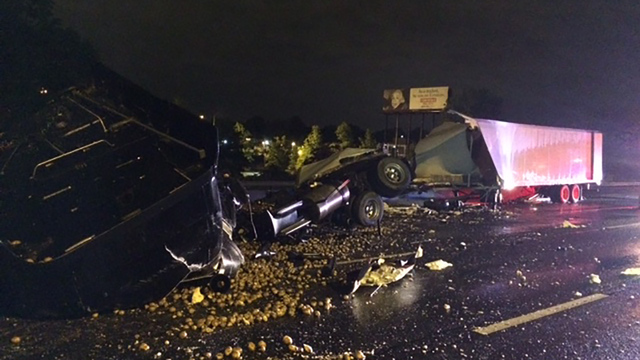 According to numbers from the North Carolina Department of Transportation, there have been more than 2,000 truck accidents in 2016, killing more than two dozen victims and leaving another 900 with serious truck accident injuries. One of the leading causes of these accidents is drowsy truck drivers.
The law in question forbids drivers to "stop, park, or leave standing any vehicle, whether attended or unattended, on any part or portion of the right-of-way" of an interstate highway – except in emergency. This includes both paved and dirt shoulders along the ramps of the road, as well.
Although the point of the law is to leave highways free of any dangerous road hazards that an improperly parked vehicle could create, many tractor trailer drivers say it forces them to keep driving, even when they are exhausted and at the point of not being able to keep their eyes open.
This was exactly the cause of a massive truck crash which occurred on Interstate 77 near Charlotte last week. The driver, who was hauling 50,000 pounds of potatoes, said he could not find a place to pull his truck over to rest as the traveled down the highway. Not wanting to pull over to the side of the road and risk being cited by law enforcement, he kept driving until he nodded off and awoke to find his truck about to smash into a cement barrier. The force of the impact sent the vehicle's engine flying out of the truck, which overturned and caught fire.
The truck driver, who suffered minor injuries in the crash, said that although he could have illegally pulled over and risked being ticketed, the real issue is the shortage of rest areas throughout the country's highways.
If you have been injured in a truck crash, contact an experienced North Carolina personal injury attorney to find out what legal options you may have against the driver and/or company they work for. Our personal injury firm also offers a free truck accident guide for victims. Topics covered include common federal regulation violations, tactics used by trucking companies to deny or avoid injury claims, and the difference between commercial truck insurance and other vehicle insurance companies.