A recent video shows a shocking sight: a mother who is casually walking her child over railroad tracks in a stroller, while ignoring the blinking lights, safety cross arms and train approaching.
They make it across with just a few seconds to spare before the train rushes by at 60 mph.
The passengers who are on the Appalachian Whistle Stop Safety Train watch this video footage and gasped.
According to a grade crossing safety manager for Norfolk Southern who was on the train, these sorts of things happen often. He showed the real life video that was shot a few months ago by a camera that was on another safety train.
This event was on June 13, and was part of a four day tour that was held by Operation Lifesaver and Norfolk Southern. The program was set up to show passengers how dangerous it is to trespass on railroad tracks and ignoring crossing signs.
The Roanoke-Lynchburg part of the trip had 70 members of law enforcement, community leaders and employees of Norfolk Southern.
The Federal Railroad Administration states that there were 20 trespasser casualties in Virginia last year, and 11 were fatal. One of them occurred in Roanoke.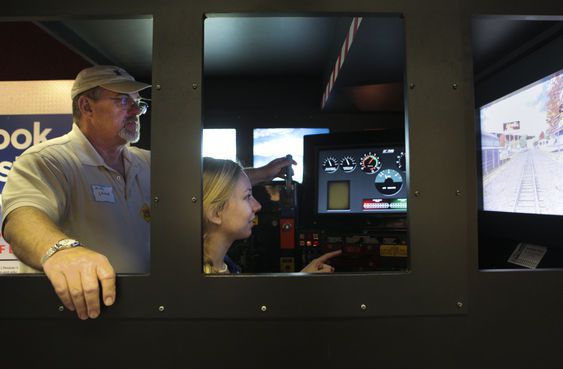 According to Melvin Jones, the executive director of Operation Lifesaver for the mid-Atlantic region, people are distracted by their own impatience and by cell phones and mobile devices.
Operation Lifesaver is an organization that tries to increase train safety awareness. The group visits schools and government organizations to improve awareness of the dangers of train crossings. Since the group began 40 years ago, accidents at train crossings have dropped from 12,000 to under 2100 per year.
There are about 50 grade crossings between Roanoke and Lynchburg, and Operation Lifesaver continues to focus much of its efforts on this busy area.