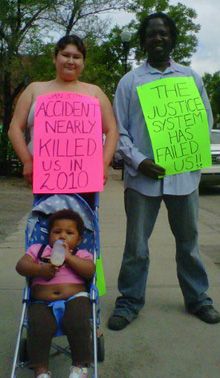 When you're pregnant you worry about everything. You worry that you're eating right. You worry about the cup of coffee you just drank. You might even worry about cleaning the cat box.
One thing you don't normally worry about is being hurt in a car accident. But this is what happened to a pregnant woman who was nearly killed last year in a car crash.
One and half years later she has still not recovered. The young woman was driving to a store to buy diapers and formula while nine months pregnant, when a taxi ran a red light and smashed into her car. She and her unborn baby were sent to the hospital with life-threatening injuries.
This mom didn't get to wake up her husband and make the drive to the hospital that most new moms remember. Instead, she was rushed into an emergency surgery during which baby Raheb was delivered by caesarean section. That wasn't the worst part, though. The mother and baby had to spend months in rehabilitation for back and neck problems. It is a terrible thing that a newborn baby is forced into the world and already injured at such a tender age.
So why did the taxi run the red light and cause the car accident that brought about so much suffering?  Allegedly, one of the passengers in the cab assaulted the driver. Despite this argument, the cabbie man was initially charged with criminal negligence causing bodily harm, assault and mischief.
But amazingly the charges were stayed earlier this month after the cab driver, the only witness, returned home to Saudi Arabia. The prosecutor said the case is unlikely to succeed without the cab driver's testimony.
As a Virginia personal injury attorney and a mom who was in a car accident while pregnant,  I know that this is a good example of why hiring a personal injury attorney or car accident attorney right after the accident is important. Having an experienced attorney investigating the accident and filing the right paper work will help ease the burden of this traumatic situation and get it heard by a judge in a timely manner.
CA