To Do List:
1.    Pick up kids from school
2.    Stop by grocery store
3.    Go to evening college class
4.    Avoid huge fiery crude oil railroad crash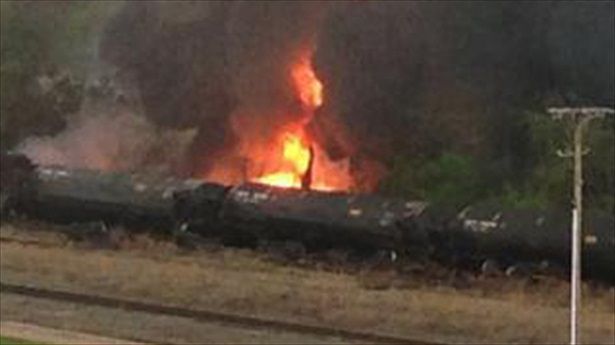 Most people have a list of things to do every day.  If you live in Virginia (VA), or anywhere on the East coast most of those things will require driving over or near a railroad track at some point in your day.  You may have never given a second thought to the contents of the tanker cars that pass through your area, but you should.  People in Lynchburg, Virginia (VA) realized this the hard way after several CSX tanker cars carrying crude oil derailed in downtown and caught fire along the James River.  The railroad derailment left oil burning along the river's surface and sparked evacuations.  There were no injuries, but residents may not be so lucky next time. 
An oil boom in North Dakota and Canada has led to a fourfold increase in the amount of crude shipped by rail since 2005, according to the U.S. National Transportation Safety Board. Environmentalists and regulators have been paying more attention to those shipments since a July derailment and fire killed 47 people in a small town in Quebec.  However discussions on the new cars started back in 2009, when the US government asked industry to draft new standards for the DOT-111. 
It is only now after media scrutiny that BNSF Railway Co. recently announced that it intends to buy a fleet of 5,000 strengthened tank cars to haul oil and ethanol to set a higher benchmark for safety.  Among the added safety features the company proposes are ½-inch thick steel shields that would go on either end of the tank cars to help prevent them from cracking open during accidents.
Our Virginia (VA) railroad injury attorneys have written at length for more than a year about the dangers of these old tanker cars and lack of positive train control to keep trains from derailing.  We've concluded that more serious injuries and accidents are on the horizon and the Lynchburg CSX accident is no exception.  These railroad accidents not only impact the communities that these railroads travel through but also the many railroad workers that are manning these shipments. 
While there may not be one magic bullet that will solve these potentially deadly accidents from happening a number of protocols have already been suggested and put into place.  A very promising safety measure which our firm has written extensively about is Positive Train Control.  However it is only after years of mandates that railroad companies are finally making a small effort to implement it.
CT