A rece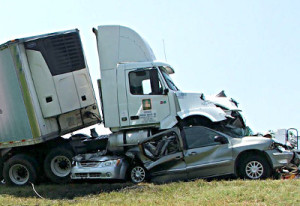 nt report issued by the American Automobile Association (AAA) says that at least 63,000 truck accidents could be avoided each year if vehicles were equipped with the right truck safety technology.
The report, Leveraging Large Truck Technology and Engineering to Realize Safety Gains, used data from the more than 400,000 truck crashes that occurred in 2015. More than 4,000 people were killed in those accidents, and another 116,000 seriously injured.
The research team from AAA that put together the report looked at the safety benefits and costs of installing four advanced safety technologies, both in new trucks, as well as in existing trucks. The results were:
Air disc brakes: Can prevent up to 2,411 crashes, 1,447 injuries, and 37 annually;
Automatic emergency braking: Can prevent up to 5,294 crashes, 2,753 injuries, and 55 annually;
Lane departure warning systems: Can prevent up to 6,372 crashes, 1,342 injuries, and 115 annually; and
Video-based onboard safety monitoring systems: Can prevent as many as 63,000 crashes, 17,733 injuries, and 293 deaths annually.
Driver Survey
In addition to the report, AAA also conducted a survey of drivers to see what their reactions to sharing the road with these big rigs are. Six out of 10 survey participants said they feel less safe when they are passing a commercial truck than when they are passing passenger cars.
RELATED CONTENT
Twenty-eight percent said the vehicles massive size and length are what make them most uncomfortable. Eighteen percent cited the blind spots that trucks have as their main concern, and 14 percent said they were concerned that the truck could swerve or drift into their lane as they were passing. About 25 percent said they would feel safer sharing the roads with trucks if the vehicles were equipped with safety technology.
Sharing the road with commercial trucks is inevitable, so taking a few recommended precautions can help keep you and your family safe:
Remember that trucks do have those blind spots and may not see your vehicle. If you cannot see the driver inside the truck, then they cannot see your vehicle.
Always follow trucks at a safe distance.
When a truck is signaling they are changing lanes, make sure to leave them a lot of room to pass.
If a truck is passing you, don't speed up. Instead, slow down and give the truck driver enough room to pass.
Make sure to leave plenty of room between your vehicle and the truck when coming to a stop, especially if the road has any type of incline. Truck often roll backward when the driver's foot comes off the brake.
Contact a Carolinas Accident Attorney
Unfortunately, no matter how safely you drive or how many precautions you take, you are still at risk of being involved in a truck crash. If you or a loved one has been injured in an accident, contact a seasoned North Carolina truck accident attorney to discuss what legal recourse you may have. Truck accidents can be more complex than other types of vehicle accidents because there may be more than one at-fault party involved. Our N.C. personal injury attorneys have successfully represented many accident victims and would be happy to discuss the circumstances of your case and how we can help.