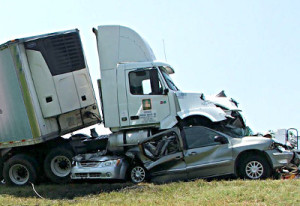 An 18-year-old SUV driver died and his passenger went to the hospital with serious injuries after a tractor-trailer rolled onto their vehicle in Harrisonburg, Virginia (VA). The fatal accident occurred on Route 33 just before the turnoff to Dale Enterprises Road. The semi operator walked away with only minor scrapes and bumps.
The at-fault truck driver appears to have lost control of his big rig when he took a curve on the highway too fast. Speeding on that part of Route 33 where the western edge of the city of Harrisonburg transitions into rural Rockingham County has long been a problem, according to people interviewed in the aftermath of the deadly turkey truck rollover.
Investigators continued reconstructing the crash through the following day. In addition to excess speed, they will need to look into whether driver distraction; a shifting, poorly balanced load; fatigue from spending too many hours behind the wheel; or impairment by drugs or alcohol played a role in leading the tractor-trailer operator to lose control. Depending on what the evidence reveals, the company that employed the truck driver could be responsible if it failed to enforce safety policies..
While the investigation is ongoing, consulting with an experienced and caring Virginia wrongful death and personal injury attorney could help the victims of this commercial truck crash stay updated on findings. Speaking with a plaintiff's lawyer could also help them understand their rights to file insurance claims against the at-fault truck driver and any corporations that may have liability.
EJL