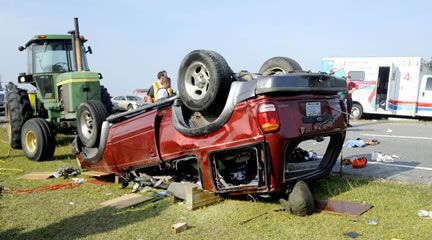 A crash between a car and an SUV in Isle of Wight County, Virginia (VA), on the afternoon of October 10, 2016, led to the death of the SUV driver. The deadly collision occurred at the intersection of Jenkins Mill Road and Carsville Highway, and the driver of the car was determined to be at fault.
Police cited the car's driver with failure to yield right of way while attempting to make a left-hand turn. He reportedly pulled out from a stop sign on Jenkins Mill before the SUV cleared the intersection. The resulting impact sent the SUV off the side of the road, where it flipped over. The man in the SUV was transported to Norfolk Sentara General Hospital, where he died from his injuries the following morning.
News reports also mentioned that neither of the men involved in the fatal crash were wearing seat belts. If the deceased victim's family member file wrongful death claims against the insurance policy of the at-fault driver, insurance company representatives may try to deny a settlement on grounds of contributory negligence. They cannot legally do so.
Virginia civil law makes it clear that failing to buckle up does not automatically disqualify car insurance injury or wrongful death claims brought on behalf of adults. The innocent victim in this Isle of Wight crash was 60 years old. The negligence of failing to yield right of way should make the person driving the car responsible for paying compensation and damages. 
EJL