A Paris Elementary school bus was traveling down State Park Road in Greenville County, South Carolina (SC) early in the morning with a 9-year-old student on board. The bus was beginning its route to eventually transport a busload full of kids to school for a day of learning. Unfortunately, the bus never got a chance to complete that route.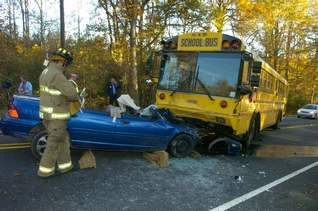 A Dodge Neon collided head-on with the bus injuring both drivers and the 9-year-old student, according to counton2.com. We don't know the severity of the injuries and why the Neon wound up dipping off the side of the left shoulder and eventually hitting the bus. We'll have to wait and see what the police report states.
The second accident occurred on Neely Ferry Road, also early in the morning. The bus was carrying eight children with special needs, according to GreenvilleOnline.com. A Ford Expedition, driven by a 16-year-old, pulled out in front of the bus causing the accident.
The devastation associated with a car-bus accident is pretty severe. A car can be completely demolished given the disparity in size and weight between the two vehicles. The driver of the Neon is fortunate to be alive. Since 1990, close to 1,500 people have been killed in accidents involving a school bus. Sixty-seven percent of those fatalities were the driver of the other vehicle.
About the Editors: Shapiro & Appleton is a law firm which focuses on injury and accident law and we have experience handling accidents involving mass transit such as airplanes, trains, and buses. Check out our case results to see for yourself as we have handled serious mass transit cases in multiple states involving railroads and involving commercial aviation. Our law firm has offices in Elizabeth City, North Carolina (NC) and Virginia Beach, Virginia (VA). Our lawyers hold licenses in NC, VA, SC, WV, KY and DC. We are ready to talk to you by phone right now—we provide free initial confidential injury case consultations, so call us toll free at (833) 997-1774. Our injury attorneys also host an extensive injury law video library on Youtube .  In addition, our lawyers proudly edit the Northeast North Carolina Injuryboard, as well as the Virginia Beach Injuryboard and Norfolk Injuryboard as a pro bono public information service.
PA