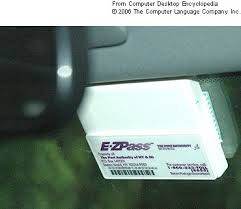 A Virginia woman involved in a life-threatening head-on car accident in February has spent the last months focusing on recovering from her injuries. Apparently, Fairfax County Police suggest she should have focused on canceling her E-ZPass. That's right. Her E-ZPass.
The February collision left her in critical condition and wrecked her car. She says she has little memory of the first month after the crash because she was so heavily medicated. The next few months she spent in rehabilitative therapy. She considers herself lucky to be alive and walking after such a terrible accident.
Then, a few weeks ago, she found a $1,003.78 charge on her credit card for tolls logged to her E-ZPass – the transponder that was mounted on the windshield of her totaled car. The tolls spanned from Virginia to Massachusetts, and even after she called the company to cancel, the stolen transponder logged another $108 in toll charges.
The tow truck company that hauled the car to the salvage yard said they are investigating and are now aware that the first charges occurred the same day the car was transported to the salvage yard. Fairfax County Police say the case is out of their jurisdiction, and told News4 that they recommend people treat an E-ZPass like a credit card and cancel it immediately.
The woman in the wreck agrees that her transponder was an easy target because a thief would assume "whoever was in that car was not going to be in a situation to be thinking about the E-ZPass."
And they shouldn't be. Canceling credit cards and E-ZPass transponders should be far from the first priority for victims who are seriously injured in car accidents. As this woman experienced, critical injuries can lead to months of heavy medication and little memory of what has happened or how much time has passed. Victims who are still in recovery, saddled with medical bills, and possibly trying to obtain compensation from the driver who caused the accident should not have to pay a bill for tolls linked to a car that was reduced to a heap of metal after the accident.
There is a police report linked to this and every serious accident, and that report would have at the very least the license plate information from the totaled car. It would be relatively easy and very inexpensive to send the license plate information to the Virginia Department of Transportation, who could then put a hold on the transponder registered under that plate until the owner could be reached. I can't imagine a reputable credit card company insisting on charges a cardholder could not possibly have made. The VDOT shouldn't either.
AM