The Virginia Department of Transportation (VDOT) has announced plans to install metal studs on the James River Bridge's new steel grid deck in an attempt to reduce accidents. Included with the VDOT's announcement were the results of a three month safety analysis the department conducted due to concerns raised over the increase in car crashes in the area where a new steel deck was installed.
The deck was completed in December 2012. Virginia State Police and the Isle of Wight Sheriff's Office both reported a spike in traffic accidents. A spokesperson for the state police said they've responded to 64 calls at the bridge this year, compared to 75 in all of 2012. The spokesperson did point out that not all incidents were necessarily car accidents.
The Isle of Wight Sheriff's Office recently sent a letter to the VDOT expressing concern over the safety of the steel deck. In the letter, Sheriff Mark Marshall wrote, "Our records indicate that of the crashes worked by our agency this year alone, 68 percent occurred on the grid-deck. While other factors may have been involved in each crash, the common denominators of grid deck and wet weather are consistent with every reported incident."
The sheriff's office reports responding to a total of eleven crashes on the bridge for all of 2012. As of July 2, the department has already responded to 35 vehicle crashes, nineteen of which they were the primary responders. Thirteen of those nineteen occurred on the grid-deck. Reportedly, the majority of those drivers "lost control on the grid deck," while others were due to a deck "spinout".
The cost of installing the studs will be approximately $800,000. The VDOT will also be installing new sinage, "Slippery When Wet", "Steel Deck", "Stay in Lane Signs", at a cost of about $8000.
For one Smithfield family, the attempts to correct the dangerous conditions caused by the steel deck come too late. On July 1, 20 year-old Kayla Williams was crossing the bridge when she lost control of her Ford SUV and slammed into the median of the bridge. She died from her injuries the next day. 
According to the numbers provided by the different agencies, there may have been over 100 car crashes on the bridge since the new steel deck was opened.
For any family who has suffered the devastating loss of a loved one, like Kayla Williams' family has, our personal injury attorneys have written a detailed guide on the wrongful death claims process in Virginia.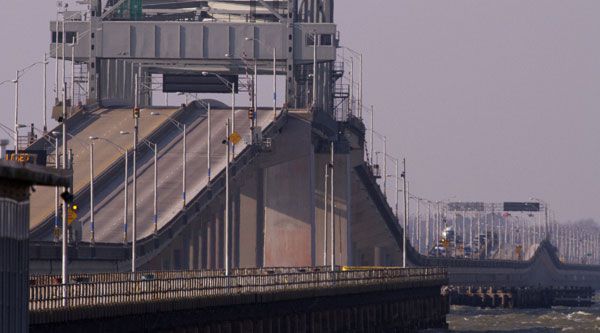 James River Bridge