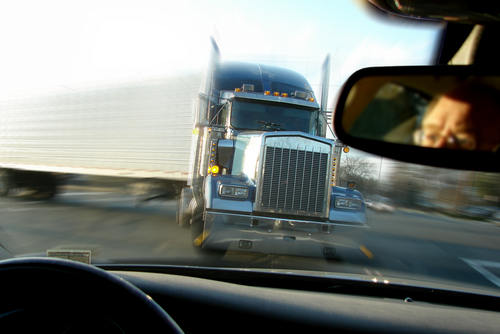 ers focusing our work on serious injuries from commercial truck wrecks, the following items are some of the best evidence of the significant problems faced on North Carolina roads because of big rigs:
The State of North Carolina ranked fifth highest in the U.S. in truck-related fatalities during 2005 according to the National Center for Statistics Analysis, Special Truck Fatality Data Run.  This means that more people were killed in wrecks with tractor/trailers in North Carolina than in states like Florida, Texas, and Georgia.
Almost twice as many people died in North Carolina as a result of commercial truck crashes as died in Virginia in 2005.  This statistic is surprising in that there is a similar amount of roadway off the interstate highway system in the two states, they share a border, and they also share some of the same major freeways like Interstate 95 (I-95) which cuts through both states going north/south.
The typical ten-foot travel lanes are not really big enough for the tractor pulling a usual 120-inch wide, 53-foot semi-trailer.  There are only about nine inches of clearance to the edge of the lane to the left and right for the trucker.
According to the National Highway Traffic Safety Administration (NHTSA), truck collisions accounted for over 200 deaths on North Carolina roads in 2005.  This means that 14 percent of the people killed on North Carolina (NC) highways died in events involving large trucks.
North Carolina taxpayers lose a minimum of $130 million each year because of heavy trucks effects on states infrastructure according to a North Carolina Department of Transportation study in 2006.  The toll on North Carolina's roads and bridges is so high that 34 percent of the state's roads are in mediocre or poor shape.