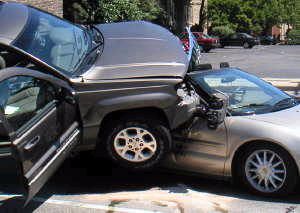 The State of North Carolina put in a good law which began in 2002 called the "Move Over" rule.  As a seasoned injury attorney handling car accident cases in North Carolina, I applaud this public safety law.  The statute (G.S. 20-157(f)) says that motorists must slow down when they see an emergency vehicle or state trooper stopped on the shoulder of the roadway with its lights flashing.  The drivers are also required to move over to another lane away from the emergency or law enforcement vehicle if there are enough lanes on a highway to do so or to slow down further on a two-lane roadway to try to avoid causing a secondary accident.  Motorists are required to slow down while maintaining a safe speed.
The reason that this rule is so important is that often secondary accidents are even more deadly than the first accident which they follow.  Sadly, the second accident is often worse than the first as the personnel are often out of their cars when hit.  For example, there can be a relatively small fender bender which the state trooper is addressing on the highway.  This could be on a road with a 70 mile an hour speed limit like Interstate 95 (I-95).  By making the other cars get over one lane and as far away as practical from the scene of the first accident, the lives of law enforcement officers and the folks in the first wreck may be saved. 
A lot of times what ends up happening if the motorist isn't prepared to stop and move away is that the officer will get clipped by a speeding vehicle or the cars following behind may not realize that the vehicles on the shoulder are stopped and will run right into the back of them.  Obviously, if the people dealing with the first accident are out of their vehicles, the likelihood that they might die from being struck is even greater than if they were safely buckled into a car.  The penalties were increased on this rule in 2006 so that a person could be charged with a felony if a collision occurs that results in serious injury or death for the failure to obey this safety rule.