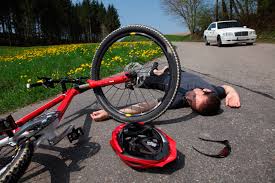 There are many reasons why cycling has become so popular. Many people enjoy cycling for recreation, fitness, and commuting. Unfortunately, as more and more people take to this two-wheeled mode of transportation, the number of bike accidents also increases. According to federal statistics, there are almost 900 people killed each year in bike accidents and thousands more injured.
Although bicycles and vehicles are supposed to share the road, not all motorists adhere to these rules. The law requires motorists to approach and pass cyclists at a reasonable speed and their vehicle must be at least three feet to the left of the bike.
LEARN MORE
Many motorists do not realize that bicycles are subject to the same right of way laws that are stipulated in Code of Virginia § 46.2-82. Failure to obey these right of way laws often leads to bike accidents. Our Virginia accident firm has represented many bike accident victims who were injured when a motorist failed to yield the right of way to the bicyclist. You will probably be surprised to learn some of the right of way laws between cars and bicycles set forth below so be prepared to be shocked.
Some of the more common scenarios include:
A bicycle and car or truck stop at an intersection. Whoever stopped first has the right of way to proceed first. If it is not clear who stopped first, then the "vehicle" on the right goes first. If that is the bicycle, that is who has the right of way.
The traffic lights at an intersection have stopped working, requiring every vehicle to come to a complete stop before proceeding. The vehicle on the right always has the right of way, even if that vehicle is a bicycle. A motorist must let the cyclist go first.
Any time a vehicle approaches a traffic circle, they must yield the right of way to any vehicles already in the circle, including bicycles.
If a vehicle that does not have the right of way proceeds, this negligence often results in a car accident. When the other party is on a bicycle and not in a vehicle, the cyclists often end up with serious to severe injuries because there is nothing to protect them from the impact of being slammed into by a car or a truck.
Cyclists who are hit by a car or a truck often end up with one or more of these injuries:
Abdomen Injuries: Includes ruptured spleen, trauma to the pancreas, contusion to kidneys, contusion to small or large bowel, vascular perforation, and traumatic hernia
Chest Injuries: Includes lung injuries and rib fractures
Facial Injuries: Includes contusions, dental fractures, foreign objects in corneas, facial fractures, orbital fractures
Head Injuries: Includes brain contusions, concussions, intracranial hemorrhage, and skull fractures
 Musculoskeletal Injuries: Includes dislocations, fractures, and strains
Soft Tissue Injuries: Includes abrasions, contusions, lacerations, and road rash
Contact Our Firm Today
If you were injured in a bicycle or any other type of right of way motor vehicle accident, it is critical not to delay contacting a Virginia bicycle accident attorney from Shapiro & Appleton right away, especially because important evidence at the scene of the incident needs to be analyzed, or we may need to put out letters demanding preservation of evidence to other parties.. Virginia injury laws have strict rules regarding how long you have to file your personal injury claim. If the statute of limitations expires without the suit having been filed,, you will be unable to collect financial damages for any medical expenses, loss of income, pain and suffering, or any other losses you may be entitled to.