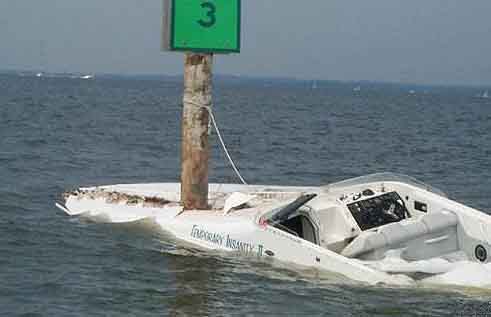 The joys of boating and fishing are part of what makes a great quality of life in Hampton Roads, Virginia (VA), with its many rivers, bays and coves. Because of all the water in our part of Virginia, residents have lots of access to recreational opportunities on the water, including boating in Suffolk, Chesapeake, Norfolk, Virginia Beach, Hampton, Newport News and Yorktown. With the fun of boating comes the responsibility for knowing the rules of the water, just like a motorist needs to know the rules of the road. Recreational boaters need to be familiar with lots of safety requirements, including the use of life preservers and when to yield the right of way to a passing boat.
With all of the commercial fishing and port activity in Hampton Roads, there are lots of big commercial vessels that are sharing the same waterways as small motor boats and personal watercraft like Jet Skis. Under these circumstances, collisions regularly occur. If you are involved in a boating accident that results in serious injury, you should consider contacting a personal injury lawyer about whether you have a claim against the insurance company for the boater who was at fault in causing your injury. Our firm welcomes free consultation on any maritime case.
As we move into the summer months there is much more recreational boating activity on the area waterways including Lynnhaven River in Virginia Beach, and the at Elizabeth River in Norfolk, VA. On a recent weekend I was with my kids enjoying a picnic at a friend's house where they are lucky enough to live right on the Lafayette River in Norfolk. There is a dock on part of the river with a sandy bottom and the kids were enjoying jumping into the water to cool off.
Others including adults and kids were using personal watercraft and small motor boats to pull inner tubes and go water skiing.
Because I am a personal injury lawyer, accidents and injuries are never far from my mind. I cringed each time a group of people on a Jet Ski got in front of or near the ski boat. Happily there was no wreck or crash. However, it made me think about all the other families throughout Virginia who were playing on the water way and the good probability that on that same Memorial Day weekend someone got conked on the head by a Jet Ski, resulting in injuries like a closed head trauma or facial scarring.
Giving that there is a limited amount of water in Hampton Roads and that the population
continues to increase, putting more and more folks and boats on the water ways, boating accidents are just a fact of life in our part of Virginia.
RELATED CONTENT