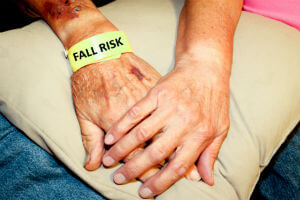 March is Traumatic Brain Injury Awareness Month. There are a number of ways victims can sustain brain injuries, including car accidents, motorcycle crashes, and premises liability accidents. While brain injuries are dangerous for a victim of any age, these injuries can be especially dangerous for the elderly, even more so for those who have underlying health conditions and are in assisted living facilities or nursing homes.
Brain injuries and skull fractures are the most common fall-related injuries that can cause a serious decline in an elderly victim's health and can even contribute to their death. According to the Centers for Disease Control and Prevention, brain injuries are a significant factor in about 20 percent of all nursing home deaths each year.
Brain Injury Symptoms
When an elderly resident has suffered a fall in a nursing home and a brain injury is suspected, there are signs that staff need to watch for. Unfortunately, many nursing homes are understaffed, and this often leads to overworked staff who are so busy they fail to notice signs that something is wrong with a resident. If a family member or other visitor notices any of the following symptoms in their loved one, they need to alert the nursing home director or doctor immediately. If they are not available, then the family should consider calling 911 if necessary:
Agitation
Behavior changes
Blood-tinged or clear fluid in the resident's ears or nose
Coma
Confusion
Convulsions
Dilated pupils
Dizziness
Facial weakness or droopy eyelids
Infections
Issues with concentration
Issues with memory
Issues with sleep
Issues with vision
Lingering or worsening headache
Loss of balance
Loss of consciousness
Loss of coordination
Muscle weakness
Nausea and vomiting
Paralysis
Ringing in ears
Sensitivity to light or sound
Slurred speech
Sudden loss of appetite
Trouble with speaking
Is the Fall a Sign of Neglect or Abuse?
While it is possible that the resident fell on their own, any kind of brain injury or other injury from a fall could indicate that the resident is being abused or neglected. Does the resident have any other bruises or cuts that could indicate they fell from being pushed or other type of physical abuse? Are they open about how the fall occurred or do they refuse to talk about what happened? Are they being overprescribed antipsychotics, anticonvulsants, or blood thinners, which all increase the risk of falling? Signs that could indicate the fall was caused by neglect are the overall condition of the resident, including whether or not they have bedsores, their personal hygiene is being taken care of, and they have not had a sudden unexplained loss of weight.
Let a Skilled Virginia Nursing Home Abuse Attorney Help
If your elderly loved one has been the victim of nursing home abuse or neglect, contact a Virginia nursing home abuse attorney to find out what legal recourse your family may have. At Shapiro, Washburn & Sharp, we have been aggressively advocating for victims for more than three decades and have helped many nursing home abuse victims receive compensation for their injuries, as well as hold the perpetrators who committed the abuse responsible.
Contact our office today to set up a free and confidential consultation with one of our dedicated nursing home abuse attorneys today.
RELATED CONTENT