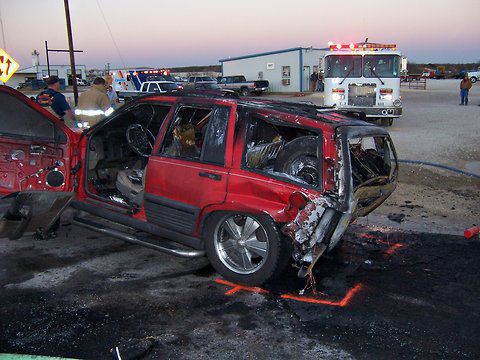 Recently in Mason County, West Virginia, two men died in a fiery head-on car accident after one driver drifted out of his lane and into the path of an oncoming vehicle. Just last week in Winchester, Virginia, a family of four died in a car fire that was caused by a rear-end accident that ruptured their gas tank.
As you can see, car fires in the wake of a collision can be extremely deadly. Even if a car accident victim survives the initial crash, some may become trapped in their burning vehicle while others are knocked unconscious and unable to escape the blaze. In fact, the National Fire Protection Association reports that there are thousands of car fire injuries each year in the United States and hundreds of car fire deaths.
What should you know about car fires that could help keep you and your family safe from harm?
•    Car fires spread fast. If you are in a car that is smoking or on fire, get out of the vehicle immediately. Help fellow passengers if you can, but do not stop to collect personal belongings. You can cut down on the risk of a quickly spreading car fire by keeping your vehicle's cab clear of trash and debris.
•    Car fires can lead to explosions. There are a number of highly flammable fluids in your car, and a car fire can trigger an explosion. For this reason, it is very important that you and your passengers get as far away from the car as possible after an accident.
•    Smoke inhalation is even more dangerous than burn injuries. Did you know that more people die from smoke inhalation than actual fires? Be aware during a car fire that smoke is extremely dangerous and can cause you to lose consciousness rather quickly.
•    Car fires should be dealt with by professionals. Because of the danger of explosions and fumes, do not attempt to extinguish a car fire by yourself. Call 911 immediately and wait for firefighters to arrive on the scene.
Have you or a loved one been injured or burned in a car accident fire or car fire? You could deserve compensation. Speak with a Virginia car accident attorney to day and share your story.