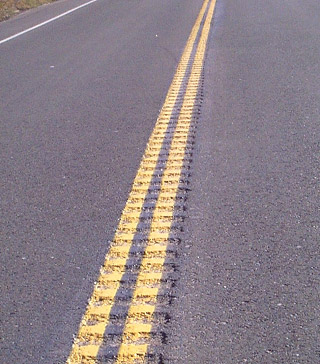 Recently we covered the story of Tex and Carol Lee, a West Virginia couple who were seriously injured on a rural two-lane highway in Jefferson County. They believe that their traffic accident, which took place when an oncoming car drifted into their lane and hit them head on, could have been prevented by a centerline rumble strip. But what exactly is a rumble strip, and are they proven to save lives?
While rumble strips have been installed on most interstate shoulders across the country to prevent tired or distracted drivers from drifting off of the road, more and more states are installing grooved pavement along the double yellow line of rural two-lane highways, where crossover accidents often cause serious injuries and deaths.
Why do rumble strips work? Safety advocates say that they come in handy in a variety of situations common on rural stretches of highway: they make drivers aware of their drifting car if they are suffering from fatigue, fall asleep at the wheel, suffer from highway hypnosis, or are distracted from the road. In addition, rumble strips can help drivers stay in their lane in low-visibility conditions like fog, rain, or snow.
While some believe that rumble strips aren't worth the money – they cost about $500 a mile to install along the center line of a road, and $1,000 a mile to install along two shoulders – studies have shown that they can significantly reduce the number of serious accidents on small highways.  In fact, studies have shown that centerline rumble strips reduce the number of serious car accidents by 30 to 50 percent on rural two-lane highways and by 40 to 90 percent on urban roads with two-way traffic. While some motorcyclists believe that rumble strips add danger for those on motorized two- and three-wheeled vehicles, studies have shown that motorcycle accidents do not increase after the addition of the safety feature.
Have you or a loved one been injured in a two-lane rural highway accident after an accidental crossover? Speak to a West Virginia personal injury attorney today about your case.