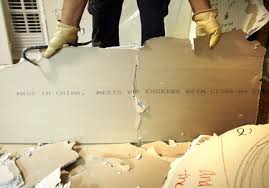 Our homes are seen as our sanctuary where we can spend time alone, with friends, or with family.  What happens, however, when unforeseen issues arise with the walls of your house threatening the safety of you, your family and your financial well being. 
Homes throughout the country, including homes in Carolina, have taken on a dubious nickname – "cancer traps" – due to toxic Chinese drywall. Our law firm has written extensively about toxic Chinese drywall and what's so discouraging is the fact that no one can truly quantify the extent of the problem. The only consensus for toxic Chinese drywall is the horrendous effects it has on families and their homes.
The primary substance causing the toxicity is phosphogypsum, according to dailyfinance.com. It contains high concentrations of uranium and radium. The Environmental Protection Agency banned the use of phosphogypsum in the U.S. but China uses it regularly.
Virginia (VA) Senators Mark Warner and Jim Webb as well as Representative Glenn Nye are trying to get the IRS to give homeowners affected by "Chinese-made drywall" a deduction in their taxes.  In a June 16th letter, Congress members insisted that the IRS reduce federal income taxes expenses that dealt with drywall, which has been accused of ruining pipes, air condition coils and even some appliances.  According to Senator Bill Nelson of Florida, families are suffering financial loses not only by having to fix their homes but also having to find alternative accommodations while those repairs are being made.  During these times, especially, it is difficult for many families to bear those financial pressures.