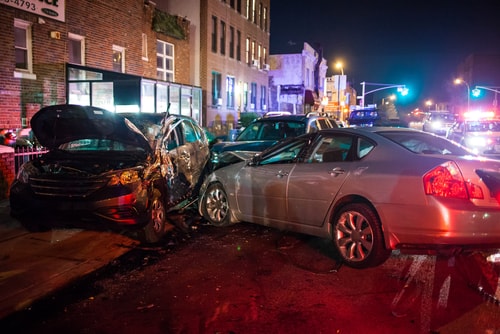 Car accidents often cause serious injuries which need extensive medical treatment and recovery. However, there are many crashes where those involved do not think they have been injured because they do not feel any pain or symptoms of any medical issues or injury. It is important for everyone to realize that it is not uncommon for even minor crashes to result in victims suffering from long-term side effects and that many of these side effects can take months before symptoms appear.  
LEARN MORE
The type of long-term injuries that we frequently see in our clients' cases include:
Abdominal Pain or Swelling: Any pain or swelling in the abdominal area, along with deep purple bruises, dizziness, fainting, and nausea could indicate internal bleeding. This is a medical emergency and must be quickly treated.
Back Pain: Back pain can develop at any time after a car crash and could indicate ligament, muscle, or nerve injury. There may even be damage to one or more vertebrae.
Changes in Cognitive Function or Personality: Any change in personality, physical function, or thought process can indicate a serious injury.  Symptoms such as impaired memory, movement, problems with hearing or vision, or overall personality changes could be signs that the victim has suffered a brain injury.
Headaches: Headaches may develop several days after a car accident and it can be a sign of a more serious problem, such as a blood clot in the brain.
Numbness: A loss of feeling in the victim's arms or hands may be a sign of damage to their neck or spinal column.
Post-Traumatic Stress Disorder (PTSD): Bad memories and flashbacks of the car accident can affect victims long after an accident has happened. Children are especially susceptible to developing PTSD after a crash.
Whiplash: Whiplash is one of those serious injuries that can occur even in minor crashes. Rear-end collisions which happen when cars are traveling at less than 15 miles per hour can result in neck or shoulder pain or stiffness. Whiplash injuries often require extensive physical therapy. And although many people consider whiplash a minor injury, it can cause serious complications if not treated right away.
Contact a North Carolina Personal Injury Attorney for Assistance
If you have been injured in an accident caused by another party, contact a North Carolina accident attorney to find out what legal options you may have. Not only may you be entitled to medical expenses and loss of income, but you may also be entitled to financial compensation for pain and suffering, emotional anguish, permanent disability, and any scarring or disfigurement your injuries may leave.
The legal team from Shapiro & Appleton has been advocating for injured clients since 1985 and will do all we can to ensure you receive the best possible outcome under the circumstances of your case. If you would like to meet with one of our skilled North Carolina car accident attorneys to find out how we can help, call us today at 757-384-9052 for a free case evaluation.