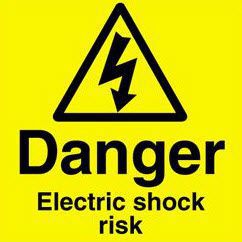 Our client was a Coast Guard security officer.  He moved to a rental property featuring docks and electric boat lifts. He and his roommates were fishing off the property's dock when, while standing on a narrow dock, he spread his arms touching adjacent metal boat lift parts. This caused him to complete an electrical circuit and suffered a serious electric shock injury. 
Our client suffered horrific electric shock injuries to his shoulders and the rescue squad took him to the nearby trauma center where he underwent eight hours of orthopedic surgery.  Due to the orthopedic and neurological injuries from the electrical shock, the man could not lift either arm without assistance for weeks, and following months of physical therapy restored motion to bring each arm level with his shoulders.  He suffered continuing anxiety, and PTSD.  Months later he underwent a second surgery on one shoulder as well.  The medical bills totaled $110,000.00, and the Coast Guard officer was earning about $47,000.00 a year and his medical disqualification from the service was a certainty so he would suffer huge lost wages in the future.
Key Legal Strategies:
Our team of North Carolina (NC) personal injury lawyers retained an experienced electrical engineer whose report concluded that no ground fault circuit interruption (GFCI) protection was installed on several of the boat lifts.  This constituted a violation of the National Electric Code (NEC) incorporated by reference into the Uniform Building Code. This Code has been adopted in North Carolina and applies to all boat lifts in the Outer Banks including Nags Head, Wilmington, Elizabeth City, and elsewhere.  
The engineer reported the lift manufacturer recommended ground fault interrupter (GFI) protection even at the time the units were installed in the late 1990s. Furthermore, no electrical permit was obtained the last date on which some new electrical wiring was installed at the docks by the electrician having conducted work there in 2004. This is important since a property owner/landlord has a non-delegable duty to maintain a reasonably safe property and premises. We contended that the owner was thereby negligent. Also, addition, we intended to pursue a negligence per se claims for several violations of the NEC. The owner claimed that GFCI protection was actually in place, and he had no notice/awareness of any dangerous condition before the accident.
Results:
The owner only maintained $300,000.00 of liability insurance. We agreed to mediate the case with a mediator against both the owner's insurance counsel and his personal counsel.  After nearly a full day of mediation with Judge Shadrick of the McCammon Mediation Group, the case settled for $525,000.00 less than 60 days before the scheduled jury trial.  Other particulars of the case are confidential.