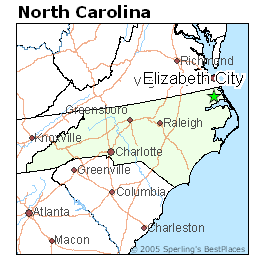 Elizabeth City, North Carolina is known as the "Harbor of Hospitality" and plays host to an inviting waterfront, vibrant downtown, shopping, dining, historic homes and one of the U.S. Coast Guard's busiest bases. As Elizabeth City personal injury attorneys, we both visit and work in this thriving community and have seen many serious car accident injuries along Route 17, Halstead Boulevard, Church Street and Main Street. 
If you or a loved one was seriously harmed in an auto accident, considering hiring one of our Elizabeth City car accident lawyers. There are many reasons why retaining a personal injury lawyer makes sense. One of the biggest benefits is that it allows you to focus on important issues like getting back to 100 percent and getting your life back in order after a traumatic, serious injury. Our North Carolina personal injury firm deals with the at-fault driver's insurance company on a daily basis so we know the tricks and delay tactics they routinely deploy on claism. During this process we will aggressively pursue compensation for medical bills, lost wages, and pain and suffering
Military
Coast Guard Air Station Elizabeth City is the largest United States Coast Guard Air Station in the nation and home to five commands – Air Station Elizabeth City, Aircraft Repair and Supply Center, Aviation Technical Training Center, Support Center Elizabeth City, and Small Boat Station Elizabeth City – as well as the off-base National Strike Force Coordination Center located in northern Elizabeth City.  The base, along with a host of defense provide a host of local jobs and maintains an influx of Coast Guard and industry employees from all around the country.  Elizabeth City is also home to one of the United States' few airship factories, many of the nation's commercial blimps are made and serviced here. 
As a personal injury firm wher, our team of personal injury attorneys routinely represent men and women who serve in the military. If you or a loved one was seriously hurt in a car wreck and are currently serving in the armed forces, the process of seeking restitution for your medical expenses, lost wages, and pain and suffering is somewhat different from that of a civilian client.
Boating
Elizabeth City, North Carolina has long been a popular stop for recreational boaters from around the world. The location on the Pasquotank River and Intracoastal Waterway is the perfect area to enjoy a day on the water. As North Carolina personal injury attorneys, we see numerous boating accidents that result in injury or death. Common dangers on the water include fires, accidental drowning, loss of limbs, and electrocution.
If you or a loved one need information about our legal services, check out these informational articles and reports: