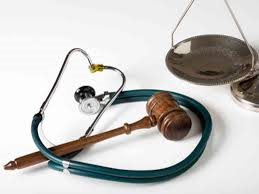 Medicare has been given a "hammer" aimed to help reduce the number of patient readmissions. You may be asking, "what's the hammer?"  Well, hospitals that have too many patients readmitted within 30 days of discharge due to complications will face financial penalties.  The penalties could average around $125,000 per facility this coming year, according to PilotOnline.com.
For the first year, the penalty is capped at 1 percent of a hospital's Medicare payments. Most penalized facilities will pay less. However, the penalties will gradually rise until 3 percent of Medicare payments to hospitals are at risk.  Not surprisingly, industry officials are not pleased with the penalty system and claim that they are being punished about being held liable for circumstances that may be beyond their control.  Conversely, consumer advocates assert that Medicare's decision to penalize hospitals is long overdue and the penalties not nearly stiff enough.
The Virginia Medical Malpractice Lawyer's Perspective:
The consumer advocates have a point. The rate of readmission due to complications is disturbingly high. Some estimates put readmission rates as high as 20 percent, while other studies assert that the rate is about 12 percent. In either case, there is room for improvement.  Reducing the number of readmits could also help in cutting down on medical mistakes.
The percentage of preventable medical errors in hospitals is also astoundingly high. For example, preventable medical mistakes kill enough people to fill four jumbo jets every week.  The status quo needs to change and giving Medicare an enforcement mechanism to encourage hospitals to cut down on readmission rights is a step in the right direction. 
PA