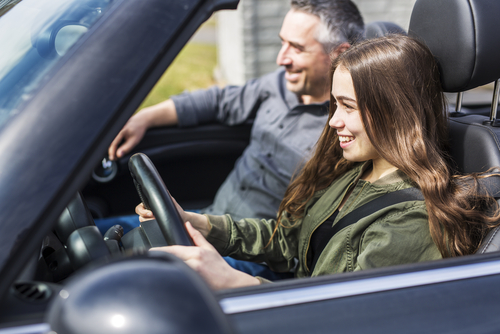 A new law was signed by the North Carolina's governor in June that allows teens to get their license without taking a road test. The new law addresses the backlog of teen driver applications that were backlogged because the DMV is not doing in-person road tests as a result of the COVID-19 pandemic.
Under North Carolina law, a teen must have one year of supervised driving with a learner's permit and can then take an in-person road test in order to obtain a level 2 license. This allows them to drive by themselves between the hours of 5 am and 9 pm. However, all DMV offices closed in March at the start of the pandemic, leaving thousands of teen drivers without a way to take the needed road test. The new law grants the teen their level 2 license without the road test, however, they will eventually have to take that road test in order to obtain their level 3 license.
Not everyone is in support of the new law, citing statistics for teen driving accidents. More than 2,000 teens are killed each year as a result of car crashes and collisions, while more than 200,000 others end up suffering serious injuries. Teen drivers are in the most at-risk age group: while they represent less than seven percent of all motorists, they account for nearly twice as much in car accident costs.
And national statistics place North Carolina as the third deadliest state for teen car accidents. According to data used in the study, 267 North Carolina teenagers died in car crashes from 2013 to 2017, which equated to a rate of 2.36 annual teen driver deaths per 10,000 licensed teen drivers.
Risk factors for teen drivers include the following:
Inexperience: Since teen drivers do not have a lot of driving experience, they are less likely to respond appropriately to any sudden changes in traffic patterns, emergency situations, and bad weather conditions.
Distracted driving: Teen drivers are more likely to engage in distracted driving behaviors, such as talking and texting on their phones, checking social media, taking photos while driving, talking to passengers, and other activities that take their focus off the road.
Driving recklessly: Unfortunately, teen drivers are more likely to act irresponsibly, even showing off. They are more prone to driving too fast for road conditions, speeding, and even racing with other drivers.
Contact Our Law Firm Today
In the event you or your teenager are involved in a crash, contact a skilled North Carolina car accident attorney to find out what legal recourse you may have against the at-fault driver and any other party that may be responsible. Shapiro, Washburn & Sharp can help you get the damages you may be entitled to. You can receive financial compensation for medical expenses, lost wages and benefits, pain and suffering, emotional anguish, permanent disability, and more. Call our office to schedule a free and confidential case evaluation.
Our Virginia injury law firm also offers car accident victims a free car accident injury guide, as well as a free wrongful death guide for families who have lost a loved one in an accident.
RELATED CONTENT