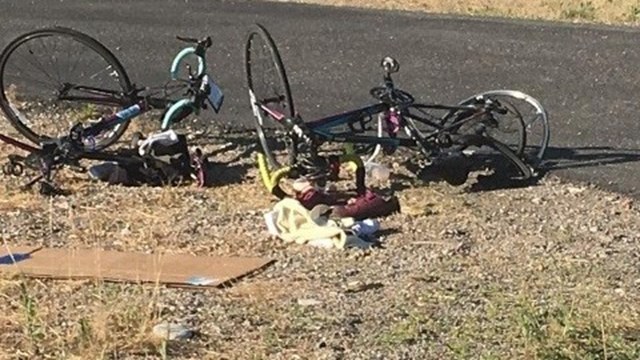 Home to two major universities—Old Dominion and Norfolk State—and adding new bike lanes through neighborhoods seemingly every month, Norfolk, Virginia (VA), sees more than its share of crashes between bikes and cars or trucks. This sad reality prompted city government to issue a Bicycle Safety pamphlet featuring the following "Top Ten Bicycle Safety Tips":
Be a responsible bicyclist– obey all traffic signals and use proper hand signals.
Always ride with the flow of traffic.
Dress safely—use a helmet, wear brightly colored clothing and secure loose pant legs.
Maximize your visibility at night–wear reflective clothing and apply reflective tape to your bicycle.
Ride defensively– anticipate the actions of others on the road and watch for road hazards.
Pass vehicles with extreme care–turning vehicles may not see you.
Be aware of motor vehicle blind spots.
Walk your bicycle when you get into traffic situations beyond your cycling abilities.
Don't carry bundles that prevent you from keeping a firm grip on the handlebar.
Lock your bicycle—secure both wheels and the frame to a stationary object using a sturdy lock.
LEARN MORE
That is all sound advice, and much of it is backed up with city ordinances and state laws regarding where and how bike riders can operate. But a rider can do everything by the book (or pamphlet, in this case) and still suffer serious injuries or get killed by a negligent or reckless driver.
The biggest problem is that drivers fail to yield right of way to bicyclists. Drivers hit and harm bike riders while turning, leaving stop signs, and entering and exiting parking lots. Running into bikes from behind is also common. Drivers either simply fail to see a bicyclist (often because they do not look) or they figure that that they can beat the bike rider to what turns out to be the point of impact.
What a Norfolk Bike Accident Lawyer Can Do to Help
Bike riders rarely walk away from crashes uninjured. Broken bone, deep bruising and road rash can be considered "good" outcomes. Traumatic brain injuries and deaths are frequent.
Coping with the aftereffects of a bike accident takes terrible, often debilitating, physical, financial and emotional tolls on victims and their family members. In addition to struggling to heal and return to work or school, it becomes necessary to grapple with covering medical bills, replacing lost wages and dealing with insurance claims adjusters.
Norfolk bicycle accident attorneys can lift some of the burden.
You might think you're better off handling a bike accident claim on your own. You figure you can talk to an insurance rep just as easily as a lawyer. While that may be true, there are a lot of areas in which skilled Norfolk bike accident attorneys can help.
First, an experienced attorney will have dealt with many similar bike accident cases in the past. The knowledge of how insurance claims agents work and how best to prepare for a possible personal injury or wrongful death trial should the settlement process fail to yield fruit will prove beneficial.
Bike accident attorneys in Norfolk, VA are also able to assist with compiling medical records while protecting a client's privacy, obtaining and interpreting police reports, conducting an independent investigation and taking witness statements. Most importantly, a bike accident lawyer will help put together a demand letter that explains exactly why their client is entitled to compensation from the at-fault driver. The settlement demand will be based on an expert's calculation of past and future medical expenses, lost wages, diminished future earnings, and pain and suffering.
If all that seems like a lot of work, it is. Putting together a compelling and complete Norfolk bike accident injury claim is not something that happens on its own. If you think you'd like help navigating the process, reach out to one of our skilled Norfolk bike accident injury attorneys.
EJL