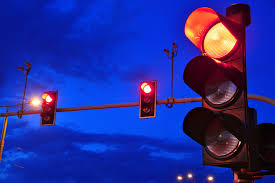 According to a recent study, the number of victims killed by drivers running red lights has hit a ten-year high. National statistics reveal that two people are killed every day by vehicle drivers who blow through red lights at intersections, putting pedestrians, bicyclists, and other drivers at risk.
Researchers who conducted the study are unsure why the number of victims has shown a consistent climb each year or why this increase is happening at a much higher rate than the overall number of people killed in crashes. In the past eight years, the number of overall vehicle accident deaths rose 10 percent, while the number of people killed by red-light running drivers rose almost 30 percent.
RELATED CONTENT
While there are definitely more people on the roads no than a decade ago, researchers say this fact still does not account for the faster and significant increases in red-light running fatalities. Instead, the study points to distracted driving as the suspected factor in many of these crashes, surmising that the driver was too focused on their phones or other distractions to notice they were approaching a red light.
Virginia's Red-Light Laws
Under Virginia law, all drivers are required to come to a complete stop at red lights. Drivers are required to come to a full stop at or before the limit line or crosswalk at an intersection. Failure to obey this law can result in a fine of up to $350.
If the offending driver hits another vehicle, pedestrian, or some other innocent victim, the law says they are liable for any damages the victim suffers as a result of their injury. Some of the damages the victim can be compensated for include medical expenses, lost wages, lost benefits, pain and suffering, emotional anguish, scarring, permanent disability, and more.
If the victim is killed in the crash, then their family can pursue a wrongful death lawsuit against the driver for the victim's death. Some of the damages that can be awarded to victims' families are funeral and burial expenses, loss of the victim's love and guidance, loss of financial support, mental anguish, and more.
Contact a Virginia Injury Attorney
No matter how many safety devices and guidelines are put in place, vehicle accidents will still happen, and most often caused by the negligence or reckless behavior of another driver. If you or a family member have sustained injuries in a crash caused by another party, call a Virginia car accident attorney to discuss what legal recourse you may have for your pain and loss. Under Virginia law, victims who are injured due to the actions of another person are entitled to financial compensation for medical expenses, loss of income, pain, emotional distress, and other losses they may have suffered due to those injuries.