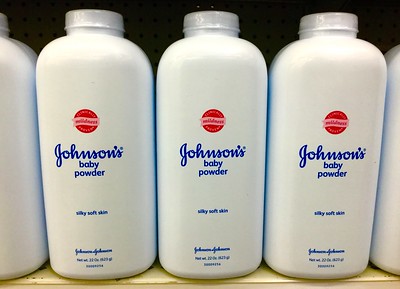 No, but the company shocked everyone when, on May 19, 2020, it announced that it would stop selling talc-based Baby Powder in the United States and Canada. The press release itself is interesting, and it receives brief analysis below.
What Johnson & Johnson did do by pulling one of its most iconic products from its most-lucrative markets for other consumer health and beauty products was acknowledge that it expects to keep facing and losing product liability lawsuits from Baby Powder users who developed—and often died—from cancer. The company is also showing that it has long known that body powders made from con starch work just as well without posing any apparent cancer risks. Johnson & Jonhson will continue selling its corn starch powders in North America. 
LEARN MORE
The Link Between Talcum Powder Use and Cancer
In 2018, a Missouri jury awarded an ovarian cancer sufferer $4.6 billion after determining that the woman's long-term use of Baby Powder caused the disease that would soon take her life. That landmark result was followed by several multimillion jury awards to both men and women, with one of the most recent being a $29.4 million verdict for a woman who developed mesothelioma. The jury in that case heard and accepted evidence that Johnson & Johnson allowed asbestos fibers to contaminate its talcum powder products.
No one doubts that asbestos exposure increases a person's risk for developing mesothelioma. Nor is there much question that mines supplying talc for Johnson & Johnson's body powders contain ores from which asbestos can be extracted. Cases brought by mesothelioma victims against Johnson & Johnson turn on questions of whether the company did enough to keep asbestos out of its products and whether it failed to meet its duty to warn users about possible asbestos exposures.
Cases brought by people who developed ovarian cancer or another type of cancer involve the broader question of whether using talcum powder poses a health risk all by itself. High-quality, large-scale analyses of medical records led researchers to different conclusions.
Researchers writing in the May 2016 issue of Epidemiology concluded that "genital talc use was associated with an OR (95% CI) of 1.33 (1.16, 1.52), with a trend for increasing risk by talc-years." Stated more plainly, yes, using talcum powder for personal hygiene appeared to raise ovarian cancer risks slightly. That apparent risk increased for certain individuals, including older women who began using talcum powder before going through menopause and for women who were heavier, lived with asthma and regularly took pain medications.
In February 2020, however, the Journal of the National Cancer Institute published research that revealed "no overall association with ever talc use and epithelial ovarian cancer." The analysis did reveal a slight association between using talcum powder and developing the most-deadly types of ovarian cancer. Clearly, Johnson & Johnson will cite this analysis in ongoing and future product liability trials.
With Some Evidence on Its Side, Why Did Johnson &Johnson Stop Selling Talc Baby Powder?
Well, it did not stop selling Baby Powder containing talc. Here is a lengthy excerpt from the company's announcement of its plan for the product:
Demand for talc-based Johnson's Baby Powder in North America has been declining due in large part to changes in consumer habits and fueled by misinformation around the safety of the product and a constant barrage of litigation advertising.
Johnson & Johnson remains steadfastly confident in the safety of talc-based Johnson's Baby Powder. Decades of scientific studies by medical experts around the world support the safety of our product. We will continue to vigorously defend the product, its safety, and the unfounded allegations against it and the Company in the courtroom. All verdicts against the Company that have been through the appeals process have been overturned.
The Company will wind down the commercialization of talc-based Johnson's Baby Powder in the U.S. and Canada in the coming months. Existing inventory will continue to be sold through retailers until it runs out. Cornstarch-based Johnson's Baby Powder will remain available in North America. Both types of Johnson's Baby Powder – talc-based and cornstarch-based – will continue to be sold in other markets around the world where there is significantly higher consumer demand for the product. Importantly, Johnson & Johnson remains fully committed to its Johnson's Baby brand.
Look again at the bolded passages. The company was losing money in the United states and Canada. It will continue selling talc-based Baby Powder in countries where consumers who are harmed by the product are either less likely to sue or less likely to even have the ability to seek compensation for a personal injury or wrongful death.
Proving a Cancer Link to a Jury
The Mayo Clinic website lists the signs and symptoms of ovarian cancer as
Abdominal bloating or swelling
Quickly feeling full when eating
Weight loss
Discomfort in the pelvis area
Changes in bowel habits, such as constipation
A frequent need to urinate
The symptoms typically only become severe enough to prompt a visit to the doctor when the cancer is already advanced.
Showing that the problem likely resulted from Baby Powder use requires ruling out other probable causes. The Mayo Clinic website also lists risk factors for ovarian cancer as including
Older age
Genetic risk/family history
Long-term or high-dose estrogen replacement therapy
Early- or late-onset of menopause
All risks are relative, and some are additive. People who regularly used talc body powders and later developed mesothelioma or some type of genitourinary cancer should consider speaking with an experienced product liability attorney. No outcome can be guaranteed, but it could help to know one's legal options.
EJL