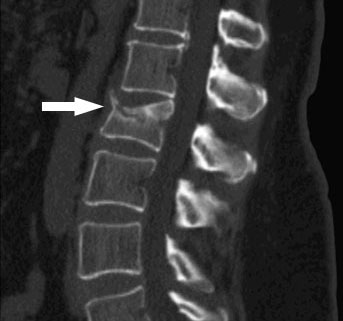 The human spine is made up of 33 vertebrae which are stacked from the bottom of the skull to the pelvis area. Each vertebra is composed of several parts that act as a whole to surround and protect the spinal cord and nerves, provide structure to the body, and enable fluid movement.
The spine itself is made up of three sections, the cervical spine, the thoracic spine, and the lumbar spine. Vertebral fractures can occur in any of these sections. Fractures are usually a result of some type of trauma.
One of the most dangerous risks of vertebral fractures is damage to the spinal cord itself. According to national statistics, there are almost 18,000 new cases of spinal cord injuries each year in this country. The most common cause of spinal cord injuries is car accidents, responsible for just under 40 percent of spinal cord injuries.
Symptoms of a Vertebral Fracture
When a person has been in a car accident, they may not realize right away that they have sustained an injury to the vertebrae. Sometimes, there is a delay of injury symptoms for several hours or even several days. If a victim is not treated by first responders at the scene of the crash, they should immediately seek out medical treatment on their own, even if they don't think they have any injuries.
RELATED CONTENT
If a car accident victim is suffering from a compression fracture that does not involve injury to the spinal cord, then symptoms will be pain, lack of mobility, and muscle spasms in the area where the fracture is. The pain will not radiate to other areas of the body. If the spinal cord or nerve roots have also been injured, the victim may have the following symptoms:
Back pain
Difficulties with bladder or bowels
Muscle spasms in the area where the injury is located
Neck pain
Numbness below the location of the injury
Paralysis below the location of the injury
Tingling below the location of the injury
Diagnosis and Treatment
When a car accident victim has suffered a vertebral fracture and symptoms are evident at the crash site, first responders should be called. They will place a c-spine immobilizer on the victim, who will be then placed on a backboard for transportation to the hospital.
In the emergency room, as medical staff work to diagnose the location and extent of the victim's injuries, they may need to treat the victim for spinal shock. This condition occurs when the spinal cord has been injured, causing the victim's blood pressure and pulse to drop.
X-rays will determine if the victim has vertebral fractures. Victims who have minor fractures may not need surgery as long as there is stability of the spinal cord. Treatment includes a spinal orthotic brace or vest. In some cases, the victim may need to have a body cast instead. Major fractures with spinal cord instability will require surgery in order to decompress the spinal cord and to stabilize the damaged vertebral column.
Despite treatment, victims who suffer vertebral fractures may end up with long-term or permanent damage and disabilities. Complications can include:
Chronic back pain
Back deformity
Decreased mobility
If the fracture caused an injury to the victim's spinal cord, complications can include:
Numbness of the extremities
Tingling of the extremities
Bladder and bowel dysfunction
Paraplegia or quadriplegia
Contact a Virginia Injury Attorney for Assistance
If you have suffered a back injury in a car accident caused by another party, contact a Virginia car accident attorney to find out what legal options you may have. Not only may you be entitled to reimbursement for medical expenses and loss of income, but you may also be entitled to financial compensation for pain and suffering, emotional anguish, permanent disability, and any scarring or disfigurement your injuries may leave.
The legal team from Shapiro & Appleton has been advocating for injured clients since 1985 and will do all we can to ensure you receive the best possible outcome under the circumstances of your case. If you would like to meet with one of our skilled Virginia car accident attorneys to find out how we can help, call us today at (833) 997-1774 for a free case evaluation.