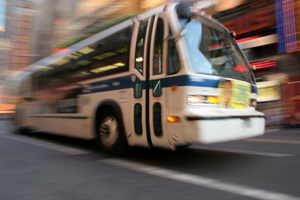 According to national statistics, there are more than 700 million people who travel by bus each year in this country. Whether by public transit bus, school bus, charter bus, or tour bus, passengers who choose this mode of transport trust that the bus driver will get them to their destination safely. And although the majority of bus rides do go off without incident, there are times when accidents do occur and passengers do suffer serious injury or even death. According to the National Highway Traffic Safety Administration (NHTSA), more than 20,000 victims are injured in the approximately 300 bus accidents that happen each year.
LEARN MORE
Why Do Bus Accidents Occur?
There are several common causes of bus accidents. Driver error is the number one cause. Other causes that our Virginia Beach car accident attorneys have seen in this case include:
Driving under the influence of alcohol and/or drugs
Drowsy driver or driver fatigue
Failure to inspect or maintain the bus or equipment
Failure to screen employees
Inadequate driver training
Overloading of the vehicle by exceeding maximum passenger capacity or allowed cargo
There are also many bus accidents in which the bus driver or bus company is not the at-fault party, but rather a driver of another vehicle. For example, a motorist who is speeding and cuts the bus off could cause the bus driver to swerve or suddenly brake. This can cause the bus to crash and passengers to sustain injuries, but even if the bus doesn't crash into anything, the jolting of the bus can cause passengers to get injured in falls or get hit by falling objects.
Whenever there is any type of bus accident or passenger injuries, an investigation must take place to determine what exactly happened and who is liable. Part of the investigation may include witness statements and video footage available from cameras inside the bus, as well as any video from security cameras located on buildings in the area the incident took place.
Bus Accident Injuries
Injuries from bus accidents can range from minor to catastrophic, depending on the circumstances. Some of the more serious injuries include:
Brain injury
Burns
Contusions and lacerations
Disfigurement or scarring
Fractured bones
Internal injuries
Spinal cord injuries
Whiplash (and other neck injuries)
In addition to physical injuries, bus accident victims may also suffer emotional injuries, such as pain and suffering or post-traumatic stress disorder.
Victims of bus accidents can pursue injury claims against the party or parties who were liable for the accident for financial compensation for medical lost wages, and other losses. Families of victims who were killed in a crash may be able to pursue a wrongful death lawsuit.
Let a Virginia Bus Accident Attorney Help
There are many causes of commercial bus crashes, whether the fault of the bus driver, vehicle malfunctioning or another driver. If you have been injured in a commercial bus crash or other mass transit accident, contact an experienced Virginia personal injury attorney to find out what legal recourse you may have for the losses your injuries have caused you to suffer. Call Shapiro & Appleton today at (833) 997-1774 to set up a free and confidential consultation.