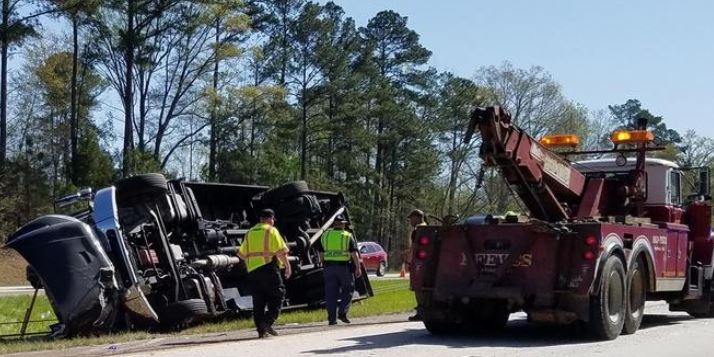 While many people were enjoying the Masters Tournament at Augusta National over the weekend, 16 people were recovering from injuries they sustained last Thursday in a charter bus crash. The tour bus was heading from Atlanta to Georgia on I-20, approximately 30 minutes outside of Atlanta, carrying 18 people all headed to the tournament.
According to Georgia State Patrol, at approximately 8:45 a.m., the bus drove off the right side of the road, then went off to the left side of the road, and then flipped over in the median.
Sixteen passengers were treated at two different area hospitals. Injuries the victims suffered included fractured bones and head injuries. One patient was listed in critical condition, five others in serious condition, and two other victims were in fair condition.
Passengers on the bus reported to police that the driver was having trouble staying in his lane before the crash. Some of the passengers even asked the driver if everything was okay and he replied everything was fine, but as one passenger described it, "We didn't really believe him. It seemed like we were wobbling a good bit as we went."
It turns out not everything was fine with the driver. The 61-year-old man was examined and had blood drawn at the hospital. Police charged him with DUI, failure to maintain lane, and failure to wear a seatbelt. He was then transferred to the county jail.
Company Liability
The charter bus is owned by a local limousine company. It is highly likely that the injured victims of this crash will contact personal injury attorneys to discuss what legal options they may have against that company. Although it was the driver's alleged negligent action that caused the crash – driving under the influence – it is the limousine company's responsibility to make sure that the drivers of their vehicles are experienced, trained, and adhere to all rules and regulations of the road.
One way to make sure the charter bus company you are hiring has a good safety record is to check out the company you are hiring on the Federal Motor Carrier Safety Administration (FMCSA) website. This is the agency that oversees all safety inspections, as well as all crash investigations and driver reports on all carriers across the country.
If you or a family member has been injured in a charter bus or other type of vehicle accident, contact a North Carolina bus accident attorney to find out what legal recourse you have. The legal team from Shapiro & Appleton has been advocating for injured clients since 1985 and will do all we can to ensure you receive the best possible outcome under the circumstances of your case. If you would like to meet with one of our skilled North Carolina car accident attorneys to find out how we can help, call us today at (833) 997-1774 for a free case evaluation.