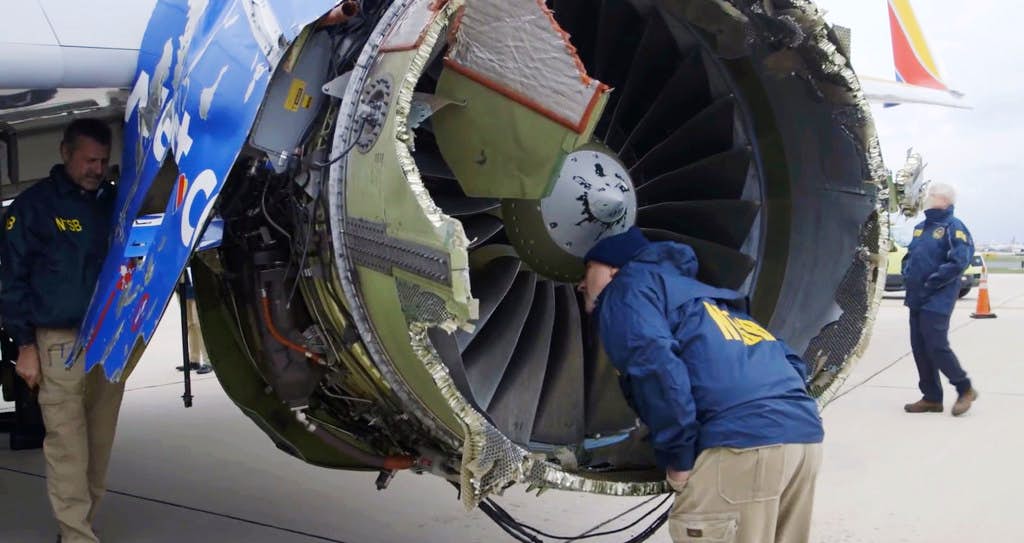 On April 17th, a tragic accident took the life of a woman and has triggered massive inspections to determine the "airworthiness directive" of thousands of plane engines.
The fatal incident forced a Southwest Airline plane to make an emergency landing because one of the plane's engines exploded, sending debris into the body of the plane and smashing one of the plane's windows. The plane, which was heading from New York to Dallas, was climbing toward its cruising altitude when the explosion occurred.
The window that was smashed was located above the left wing. A female passenger sitting next to the window was sucked out of the window, but other passengers were able to pull the victim back into the plane. Sadly, she was severely injured and died later on from her injuries.
The pilot was able to safely land the plane in Philadelphia. A preliminary investigation has suggested that a fan blade in the engine broke which caused the explosion and sent pieces of the engine flying.
A similar incident occurred two years ago, again on a Southwest flight. The plane was forced to make an emergency landing when one of the engine's fan blade snapped during the flight. There were no injuries in this incident. At the time, the FAA issued a proposal that all fan blades should be inspected and replaced if necessary, but their mandatory directive was never put in place.
Southwest Airlines has announced it is inspecting its entire fleet of planes within the next 30 days. The FAA is going to require all of the planes which have the model of engine as the one in the accident be inspected for any fan blade issues after so many takeoff and landing cycles. There are approximately 8,000 of these type of engines in planes around the world.
Contact a North Carolina Injury Attorney
If you or a family member has been injured as a result of any type of accident involving an aircraft, you may be able to pursue damages for those injuries. There are many types of injuries that can occur and many different causes, including failure to inspect and defective parts. Call an experienced North Carolina aviation accident attorney at Shapiro & Appleton if you would like to set up a free and confidential case evaluation.