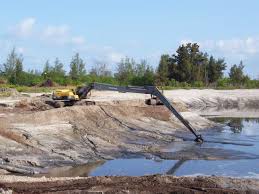 Hampton Roads is a community with access to water- hundreds of miles of waterfront property and beaches, as well as man made lakes such as borrow pits.  However, unlike natural lakes these man made lakes don't slowly taper off, instead there is a steep drop off into very deep water.   So, what exactly is a borrow pit?  Well, it's a large hole that has been dug by a construction company to harvest sand, rock, or soil.   The hole that remains is called a "borrow pit."  These pits sometimes fill with water and without proper maintenance a tragedy can occur.   
You can find these man made lakes in Chesapeake, Virginia Beach, Portsmouth, and even Norfolk, Virginia (VA).  In the summer children may try to swim or wade in them and in the winter children may try to walk out over them when ice forms, either way serious injury can occur.  Pets as well can drown in such pits.  The ASPCA warns of letting animals off leash in these areas.
If these "lakes" are on private property owners need to make sure certain safety precautions are taken.  Parents should routinely remind children about the dangers of these seemingly harmless lakes.
When almost anything can cause a childhood accident-toys, outdoor activities, household appliances and much more-it is very important for parents and guardians to understand their legal options should a child injury occur. Too often, a child's injury is due to the carelessness of a company or another person. Our firm has written a report which explains the process for filing a claim for hurt minors living in North Carolina (N.C.) and Virginia. To learn about filing a claim on behalf of an injured minor/child, download our report, completely free of charge.
CA.