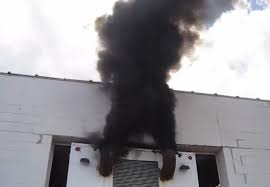 There are numerous negative health effects associated with prolonged exposure to diesel exhaust fumes including breathing impairments (often called occupational asthma or "diesel asthma") and lung cancer. Now, studies show a correlation between exposure to diesel exhaust fumes and bladder cancer.
The Clean Air Task Force released a study in 2008 showing a 13 percent increase in risk associated with bladder cancer and exposure to diesel exhaust. There was a positive association in 10 out of 12 studies conducted.
The studies focused on railroad workers (like those working for the Virginia-based Norfolk Southern, Amtrak, and CSX), truckers, mine workers, dock workers, and any other group of workers who have regular exposure to diesel exhaust.
Over one million workers are exposed to diesel exhaust and face the risk of adverse health effects, ranging from headaches and nausea to cancer and respiratory disease, according to the Occupational Safety & Health Administration (OSHA).  Studies show that all diesel exhaust contains poly-aromatic hydrocarbons (PAH's) and many are well known carcinogens.  Like the microscopic, toxic asbestos fibers that cause so many lung and other cancers, many PAH's are so tiny that they easily flow into and arrive at this very lowest portions of the lung lobes studies have shown.
I am greatly concerned about the safety of hard-working Americans who could suffer long-term health problems due to their work environment.
Unfortunately, many companies have dragged their feet in offering solutions to this problem. This isn't surprising since many companies value the bottom line over the safety of their employees and diesel remains a cost-effective, abundant source of fuel.
Nevertheless, something needs to be done to help these employees. OSHA published some helpful suggestions for mine workers. I have four different methods that could help reduce occupational exposure to diesel exhaust fumes for railroad workers:
1.) Engineer controls should be implemented such as isolation areas, appropriate shelters for employees, or actual engineering changes to equipment which subject workers to diesel exhaust fumes. This could include changing diesel exhaust stacks on engines to assure fumes do not trail into locomotive engine cabs, providing air conditioning and/or pressurize and seal engine cabs so fumes will not enter the cabs through openings.
2.) Implement administrative controls and rotate a railroad worker in-and-out of a particular job so exposure to the worker to excessive diesel exhaust.
3.) Change work practice controls, which means choosing the manner of doing a particular job so as to minimize exposure to diesel exhaust hazards.
4.) Mandate personal protective equipment such as masks or respirators or other similar protective equipment. All of these principles are typical industrial health and safety controls, not only in the railroad industry, but for general industry.
About the Editors: Shapiro & Appleton& Duffan is a law firm which focuses on injury and accident law and we have experience handling FELA and general railroad injury cases. Check out our case results to see for yourself. Our primary office in based in Virginia Beach, Virginia (VA). Our lawyers hold licenses in NC, SC, WV, KY and DC and have handled hundreds of railroad injury and FELA cases. We would like to send you one of our FREE reports about railroad injury and FELA cases, including the Do's and Don'ts When Injured at a Railroad – The Railroad Workers FELA Rights and What Railroad Claim Agents Agents Won't Tell You (But You Must Know). We are ready to talk to you by phone right now-we provide free initial confidential injury case consultations, so call us toll free at (833) 997-1774. Our injury attorneys also host an extensive injury law video library on Youtube . Furthermore, our lawyers proudly edit the Virginia Beach Injuryboard and Norfolk Injuryboard as a pro bono public information service.
PA