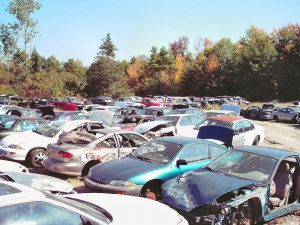 We are happy to answer questions from people injured in automobile collisions. We don't take every case we are called about.  Whether or not we take a case, we do want everyone to be treated fairly.  One thing we are called about fairly regularly is whether people should give permission to the insurance company for the other driver to move their car. 
The answer to this question varies with the facts of each case. The insurance company usually wants to move the car to save money on storage fees incurred at tow yards the vehicles are typically taken to right after a wreck. There is nothing wrong with trying to save money, but there are a few things we recommend to people when their car is being moved to a storage yard.
 Take Photos
Get photos of your car if you haven't already taken them. Police departments typically take photos of the scene and vehicles in cases involving serious injuries, death, or serious criminal charges. The photos taken by the police in those situations may be sufficient; however, there are cases in which photos are not taken or those that are taken don't show all of the damage to the vehicle.  In those situations, you should try to get photos as quickly as possible after the wreck.
The photos serve several purposes. They show the severity of the impact, the point of impact and the angle of impact. If liability is contested in the case, your photos may provide important evidence to support your case. 
The photos don't need to be fancy. We often use photos taken on cell phones by our clients at trial. The important point is the photos show the damage done in the wreck, nothing more, but nothing less. Some of the key items to obtain photos of include exterior damage to the vehicle, including photos of all four corners of the vehicle. You also want to snap any interior damage to the vehicle, as well.
LEARN MORE
Personal Items
Get your personal items out of the car. The car is going to be handled by several unknown people and stored in an area that is not secure. You can usually gain access to your vehicle to retrieve personal items early in the storage process.
Vehicle Location
Make sure you know where your vehicle is going to be stored and who your point-of-contact will be to retrieve/access your vehicle, if necessary. If your property damage/loss claim is not settled with the insurance company, you may need to retrieve the vehicle so you can repair or sell it.  If you retain an attorney, he or she may need to go to the car for inspection or photographing.
Contact a North Carolina Personal Injury Attorney for Assistance
If you have been injured in an accident caused by another driver, contact a North Carolina accident attorney to find out what legal options you may have. Not only may you be entitled to medical expenses and loss of income, but you may also be entitled to financial compensation for pain and suffering, emotional anguish, and the scarring or disfigurement your injuries have left. Your car accident attorney can also deal with other party's insurance company to ensure that your rights are protected.
The legal team from Shapiro & Appleton has been advocating for injured clients since 1985 and will do all we can to ensure you receive the best possible outcome under the circumstances of your case. If you would like to meet with one of our skilled North Carolina car accident attorneys to find out how we can help, call us today at 757-384-9052 for a free case evaluation.