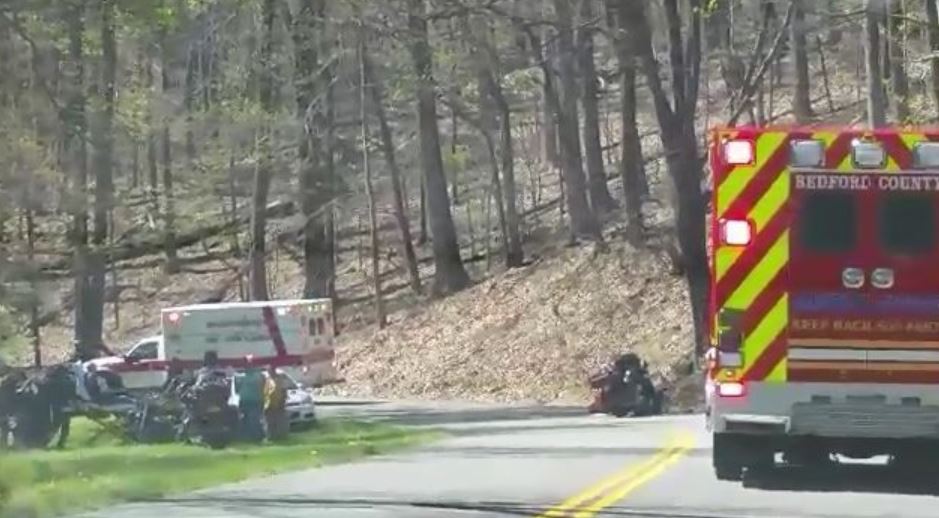 Three people were transported to area hospitals – one of the victims by helicopter – after a motorcycle crash on the Blue Ridge Parkway in Big Island, Virginia
According to reports by the Big Island Fire Chief, two groups of motorcycles were traveling on the parkway, heading in opposite directions. At mile post 68, which is located near the James River Overlook, one motorcycle heading south and one motorcycle heading north crashed into each other. A third motorcyclist intentionally crashed his bike in order to avoid colliding into the other two bikes.
The driver who intentionally crashed his bike was transported to Lynchburg General Hospital with non-life threatening injuries. The two motorcyclists who had collided were both described as suffering from severe injuries. One of the victims was transported by ambulance to Lynchburg General, while the other victim was flown to Roanoke Memorial Hospital.
Both the Bedford County and Amherst County Sheriff's Offices were involved in blocking traffic from both sides of the Blue Ridge Parkway Bridge, allowing the helicopter to land on the bridge and pick up the injured victim.
Injuries sustained in a motorcycle accident can leave long-term – and sometimes permanent – side-effects for the victim to deal with. Many victims not only have to deal with medical bills and lost wages, but also the pain and suffering from the injuries. Victims may be entitled to compensation for both economic and non-economic damages.
Our Virginia motorcycle accident injury firm has successfully represented many clients who were seriously injured in motorcycle crashes.
If you have been injured in a motorcycle accident, contact an experienced Virginia personal injury attorney to find out what legal recourse you may have against the driver responsible for the accident. Our Virginia personal injury firm also offers a free motorcycle accident injury guide. Topics covered include dealing with insurance companies, drunk drivers, uninsured or underinsured drivers, and drivers who flee the scene of an accident.